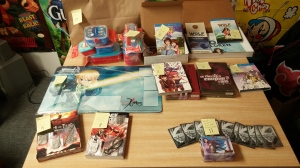 It is time once again for our Anniversary Raffle. It runs September 11 – October 11, 2014. One ticket per person per day, you must be in attendance at the store to receive a ticket. You must provide your first name and contact information. This information will not be used for any other purpose and will be destroyed at the end of the raffle.
Winning numbers will appear on our website October 12, 2014. It is your responsibility to look up the numbers to see if you have won. We will attempt to contact winners but can not guarantee we will be successful.
Only one prize per person. It will be the first ticket drawn with your name.
Any winning prize must be picked up by 5pm on October 19, 2014-no exceptions. Your winning ticket must be presented. I.D. is necessary for age restricted items (16+, 18+).
For unclaimed prizes, a new ticket will be drawn  and appear on our website October 20th and must be picked up by 5pm October 27th.