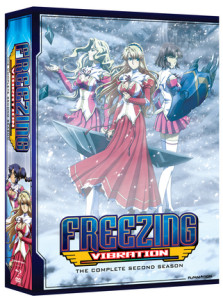 Title: Freezing: Vibration season 2
Director: Takashi Watanabe
Studio: A.C.G.T.
U. S. Distributor: Funimation Entertainment
U. S. Release Date: April 21st, 2015
Format: DVD / Blu-ray / 12 Episodes / 300 Minutes
Genre: Seinen, Drama, Supernatural, Sci Fi, Fan Service
Age Rating: TV MA
Overall Personal Rating: B-
Synopsis:
Satellizer el Bridget and some of the most powerful – and desirable – Pandoras in the world are summoned to a secret base in the wilds of Alaska. These gorgeous warriors arrive primed for battle, but they soon discover the true purpose for their presence: to assist the clandestine Chevalier organization in forging a new breed of soldier – E-Pandoras!
Once normal girls, these eager beauties volunteered to have their bodies genetically enhanced in order to join the fight against the deadly alien invaders plaguing the planet. But there's more to becoming a superhuman battle vixen than tattered uniforms and sultry slugfests. Rumors of heinous experimentation haunt the E-Pandora project, and only Satellizer and her loyal companion Kazuya can unravel the mystery before it's too late!
Commentary:
There are long string of sexy girl battle anime and most of them fall apart pretty quick. The first season of Freezing may have help some promise for season 2 and amazing enough there is something here that manages to rise above the bouncing boobs, just barely. The great failure of these series is that they aim to entertain just one thin section of the anime fan base and many of those young men between 16 and 25 will be getting in line to pickup their copy of this wild series. Being a little older than that and liking my women to be 3d and flesh and flood would not make me one of the army of fans running to the nearest store to get this action packed series.
I thought the plot was stimulating enough to stand on its own and at the same time found the nude women rather distracting, plus every scene seemed to be more focused on boobies or panty shots. If there would have been less of this silliness it is very possible that Freezing Vibration could have become a classic along the lines of Claymore. I'm not here to discount the power of fan service, there can be opportune times to use sex or sexuality to give more power to the story and for some reason anime has a hard time understanding a solid balance.
Overall Garde: B-
If it weren't for a solid story line I would have write Freezing off as just another bouncing booby show that is there to prove that the understanding of the human anatomy continues to elude all too many animators. I does continue to re-enforce the age old complaint about anime and manga and that is that it is created by too many men who use this medium as their idealized world.
If you prefer real bodies and a world that is more interested in the problems at hand then freezing is not for you. If you prefer your world to be full of buxom women who would rather not wear cloths then you need to rush out and get in line for the release of Freezing Vibration!