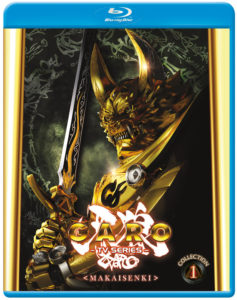 Title: Garo TV Season 2 Collection 1
Director: Keita Amemiya, Makoto Yokoyama, Kengo Kaji & Ryu Kaneda
Network: TV Tokyo
U. S. Distributor: Sentai Filmworks, Section 23
U. S. Release Date: Aug. 7th, 2018
Format: Blu-ray / 13 Episodes / 325 Minutes
Genre: Super Sentai, Super Hero, Action, Adventure
Age Rating: TV MA
Overall Personal Rating: C-
Synopsis:
In the war against the nightmarish creatures known as Horrors, Mankind's most formidable line of defense has always been the power of the Makai Knights. But now, one by one, the Knights are being mystically marked for death by a mysterious magic user in a crimson mask.
Even Kouga, the bearer of the golden GARO wolf armor, is among the afflicted, with the accursed mark slowly draining his strength, and making the use of his armor incredibly painful. Who is the Red Mask and how has he (or she) been able to target the Knights so effectively? All signs point to a betrayal from within their own ranks and now it's up to Kouga, Rei, and the other Knights to track down their enemy while they're still strong enough to defeat him!
Commentary:
Super Sentai is one of those genres that has given us the overrated Power Ranger but also continues to toss out mature series like Garo. Funny thing about Garo is that it really doesn't need to be a mature series. Take out some nudity and dark unnecessary scenes you would have a series that is no better than the silly Power Rangers. I do miss the early days of Ultraman or even Jonny Socko and his flying Robot / Giant Robo. It is mush easier to deal with these super heroes if they didn't take themselves so seriously.
I really want to like Kouga, but because of his overtly serious mood all the time he becomes someone I didn't care for at all. Red and some of the other Makai Knights are easy to like and I wanted them to win and maybe even show Kouga a thing or two.  It never worked out that way and I ended up being sad.
Overall Grade: C-
I would love to say that the special effects are great and that the acting was wonderful, but that is not the way it is. I would also love to say that the stories were well written and insightful along with engrossing, but again that just isn't the case. The one thing I can say is that the overall production values are above average (except for special effects).
Garo season two is for a very special audience. It is for those Super Sentai fans that need a little nudity and darkness to overshadow the basic story that provides creepy demons and over-the-top good guys. Garo will provide a great look at the Japanese super hero stories that we just don't see over here and I do suggest seeing a few episodes just to experience this world.