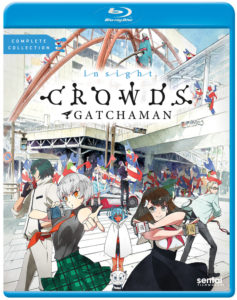 Title: Gatchaman Crowds Insight on blu-ray
Director: Kenji Nakamura
Studio: Tatsunoko Production
Writer: Toshiya Ono
U. S. Distributor: Sentai Filmworks, Section 23
U. S. Release Date: Nov. 22nd, 2016
Format: Blu-ray / 13 Episodes / 325 Minutes
Genre: Sci Fi, Action, Adventure, Super Hero
Age Rating: TV 14
Overall Personal Rating: B-
Synopsis:
Gatchaman Crowds insight contains episodes 1-13 of season two of Gatchaman Crowds.
You can't keep a good Gatchaman down, especially when a new organization called VAPE (short for Violent Ape) starts hijacking CROWDS technology.
The ensuing wave of "Red CROWDS" incidents targeting high profile targets like the Prime Minister make it clear that the good team needs to start recruiting; fast. Fortunately, help arrives quickly, and with a rather… loud entrance. The alien Gelsadra's ship crashes in a rice paddy in Nijima!
Besides being generally peaceful, Gelsadra has a unique power involving comic-book-like speech bubbles that display a person's inner feelings, rather like an emoji.
There's also the fireworks enthusiast, Tsubasa, whose life becomes the focus of millions of viewers when she's chosen as the newest Gatchaman – on nationwide live television!
As if that wasn't enough pressure for a teenage girl to handle, she's also assigned Hajime as her mentor!
Will she survive? Will the world survive? Things are about to get really wild and crazy in GATCHAMAN CROWDS INSIGHT!
Commentary:
Are you looking for a series that is colorful, cheerful and rather bizarre then you need to look no further than Gatcham Crowds insight. From the very opening sequence it is easy to tell that this one will keep your attention.
The story is rather simple with plenty of oddities thrown in. It at times leaves you wondering why you are watching it and at other time thinking that this is simply great. I'm not real sure that the switch between great and weak does the series any help in fact this change is a true reflection of the writing and if the writing is not consistent then the series suffers.
Overall Grade: B
Even though the series has some obvious flaw in the writing I still found it to be a enjoyable series that provides enough odd insight to be more than just average. Gatchaman Crowds insight takes the new animation style of bright and bold to a new level and makes sure you eyes are glued to the screen. This outrageous animation added to a strange story of hers and aliens that goes from sugar sweet to somewhat weird makes for entertainment.
I'm not sure Gatchaman Crowds insight is for everyone, but if you are looking for something different then this one is for you. You do not need to see the first season of Gatcham Crowds because for once there is a brief explanation of the prior season to open this part of the series. Also, if you just want wierd here you go.