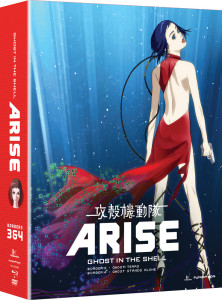 Title: Ghost in the Shell: Arise Border 3 & 4
Director: Kazuchika Kise
Writer: Tow Ubukata
Music by: Cornelius
Studio: Production I. G.
U. S. Distributor: Funimation Entertainment
U. S. Release Date: October 13, 2015
Format: Blu-ray / DVD / 2 OVA / 116 minutes
Age Rating: TV MA
Overall Personal Rating: A
Synopsis: 
Border 3: Ghost Tears
A terrorist bombing and the mysterious death of a detective trigger a deadly investigation involving prosthetic legs and members of a rebel group leftover from an international conflict. When all signs point to a master of cyber warfare known as Fire-Starter, phantoms from the past come back to haunt Major Motoko Kusanagi as she struggles to keep her personal and professional life separate.
Border 4: Ghost Stands Alone
Motoko Kusanagi is closing in on the dangerous hacker who created the false memory virus. After a mass shooting leads to the capture of a key witness, the team finds themselves in a race against the clock to unravel the secrets she's keeping. With enemies appearing all around them and the stakes growing higher by the minute, it's time to find out once and for all: Who is Fire-Starter? And how can they be stopped?
Commentary:
Ghost in the Shell Arise is a retelling of the original Ghost in the Shell story and it gives us a picture of the team before the original series takes place. Films 3 & 4 are more of the wonderfully odd cyber punk world and with Tow Ubukata as the writer thing are given an even more interesting viewpoint of this messed up world they live in.
Both of these stories take on the topic of love in their own way and question how far can love reach even with individuals how have forsaken much of their humanity for cyber bodies and partially cybernetic brains. Are they capable of love or are they only meant for doing the ugly things?
Overall Grade: A
I is always fun to see how someone else envisions a story and a world and because Tow Ubukata has such a rich imagination he is able to catch the original essence of the series and then add his vision and unique approach to this cyber punk world make it both disturbing and also very easy to watch.
When I started to watch the first of the films I was disappointing with the animation but to grew on me quickly and I now think that the art style fits perfectly. Realistically speaking, in today's world with such high technical possibilities it is sometime easy to loose site of the artistic blending of vision and story to make the concept come alive. I saw this in Mardock Scramble and again now in Ghost in the Shell Arise.
I don't think it matters if you are a Ghost in the Shell fan or not, I believe that you you enjoy hard hitting dramas then you will find a special place in your anime library for this series and these two films.