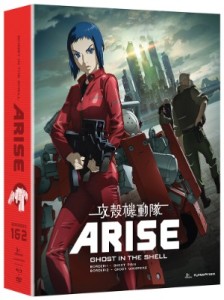 Title: Ghost in the Shell: Arise, Ghost Pain & Ghost Whispers
Director: Kazuchika Kise
Studio: Production I. G.
U. S. Distributor: Funimation
U. S. Release Date: Oct. 28th, 2014
Format: Blu-ray / DVD / 114 minutes / 2 episodes
Genre: Sci Fi, Action, Adventure, Cyber Punk
Age Rating: TV MA
Overall Personal Rating: A-
Synopsis:
This set contains Ghost in the Shell: Arise Borders 1 and 2 on Blu-ray and DVD!
Border 1: Ghost Pain
When cyborg hacker Motoko Kusanagi is hired to investigate a devastating bombing, she must fight her way through a maze of phantom memories to unlock her mysterious past – and track down the evil mastermind behind the attacks.
Border 2: Ghost Whispers
Witness the formation of the legendary Public Security Section 9. When a clandestine organization hacks every car in the city, Kusanagi recruits a lethal team of cyber operatives that includes a badass brawler with Special Forces training, an explosives expert, a technology specialist, and a chain-smoking jack-of-all-trades with a sordid past. Together this ruthless gang of enforcers sets out to clamp down on the chaos and make the city safe again.
Commentary:
It has been years since we have been graced with the Ghost in the Shell franchise and it is about time that we are treated to this ground breaking series. The wait is well rewarded. The two episodes in this set are both great in their approach and also  their delivery. Both are imaginative and slick in production. I did find some of the CG to be a little lacking in quality, but overall it really hit the spot.
With the main character being the cold and somewhat calculating Motoko Kusanagi who seems to be on a private mission. In the first episode, Ghost Pain, we are treated to the basics behind the short series and the solid backbone to the stories to come. We see a cyber operative who has no past and no future, but in her own way she is quickly creating a future that she can own all to herself and in her own way she will also begin to give a team of societies tools a chance to work in the shadows and at the same time live their lives in the bright light that they all have hidden fro their entire lives.
Ghost in the Shell Arise, gives a new look at the world that suggest that there might be a time when life will be both improved by cybernetics and darkened by the way both the military and enemies of the state will use these new powers. It also paints a picture of a world that has begun to rely on technology way too much. It may be part of the story and the old Sci Fi genre that has been out there for many years, but with our own move to becoming too attached to our phones / computers the world of Ghost In The Shell feels all to possible.
Overall Grade: A-
Both of these episodes remind me of why I and many others are big fans of the Ghost In The Shell franchise and why they manage to hit the mark in both story telling and a peek into a future that is less than favorable. So, if you haven't had the chance to see any of the Ghost in the Shell films or series then there is no reason to miss these two. There are another two episodes in this series and I for one am looking forward to seeing them. There is plenty of story left, I just hope they don't roll through the next too quickly. So, bring it on I am waiting.