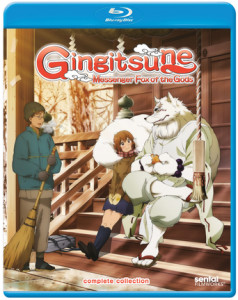 Title: Gingitsune; Messenger Fox of the Gods on Blu-ray
Director: Shin Misawa
Anime Writer: Hiroshi Yamaguchi
Creator: Sayori Ochiai
Studio: Diomedea
U. S. Distributor: Sentai Filmworks, Section 23
U. S. Release Date: March 31st, 2015
Format: Blu-ray / 12 Episodes / 300 minutes
Genre: Supernatural, Slice of Life, Comedy
Age Rating: PG (All Ages)
Overall Personal Rating: A
Synopsis:
In Japan, it is said that if you pray to a deity with sincerity, you will surely feel the divine presence. However, as the successor of the Saeki Inari Shrine, Makoto Saeki can do more than that. She's been seeing and speaking with spirits, kami and other messengers of the Gods since her mother's funeral. It can be difficult, especially when her classmates can't know about her latest "issues" with Gintarou, the irritable fox-like Herald who's protected the Saeki shrine for hundreds of years. But at least Makoto's father, who runs the shrine, knows that Gintarou is more than an imaginary friend.
Between them, the shrine maid and mystical Herald can usually manage to cooperate long enough to help those who need it. However, when a young man with a similar "gift" to Makoto's arrives with his own shrine and Herald issues, it's going to take more than just prayers to sort things out. After all, if there's one thing that both human and supernatural can agree on it's that the Gods often work in convoluted and mysterious ways. Just because you're working for a higher power doesn't mean you always agree with their intentions.
Commentary:
Gingitsune; Messenger Fox of the Gods just hit my list of the top 10 releases for 2015. It is a simple yet heart warming coming of age story that brings people together and create new friendships and at the same time helps to save the hopes and dreams of a couple young people. I don't want to put too much on the shoulders of this series because it is a easy and simple story that in its own special way says a lot about all of us. Makoto and Satoru have been gifted with the sight to see the Heralds (sprits) who reside at the shrines and watch over humanity. They are gifted with the sight a young ages and well before they knew what they wanted to do with their lives. In their struggle to understand the importance of who they are and what they should do the  journey they take manages to give them the help and clues that need.
Even though I am an old softy when it comes to these type of stories and end up shedding a tear as I watch it became very clear to me that this series says a great deal about all of us, not just these two and their friends. It clearly points out that our paths may never be as obvious as we think and that we need to keep our eyes and minds open to the possibilities in front of us.
Overall Grade: A
From the opening episode I was hooked and ended up going through Gingitsune; Messenger Fox of the Gods in a very short period. I found myself want to see if they came to an end or even better if there is something that they learn that makes the difference. I'm not going to tell you but I can say that I wasn't disappointed.
Gingitsune; Messenger Fox of the Gods is a series for everyone. I think the younger viewers will enjoy the Fox Gods and the older you get it will the story itself that draws you in. The only negative I have for the series is that Sentai Filmworks did not dub the series. I think that all too many possible fans will stay away because it does not have a english voice over. I find sub titles easy to follow, but younger viewers can't read that fast and miss a lot of the story, or even some can't follow along at all. I hope that there is enough interest in the series that at some point the money is put into the series to give it a solid english dub. In the mean time I will be pushing this series on everyone I know.
In today's anime market It is great to see a heart warming series brought over that isn't full of bloody fights, over the top silliness or even loaded with fan service. Some of the most heralded creators coming out of Japan give us stories that touch our hearts without beating over the head. I'm sure you can think of a few like Studio Ghibli, Makoto Shinkai and Mamoru Hosoda. There are plenty of other great story tellers out there and I for one would love to see them make it over to our country and be given the same marketing push that something like Attack on Titan got or even Space Dandy.
Gingitsune; Messenger Fox of the Gods is a hit in my eyes and I bet if you gave t a try that you too will find it very special.