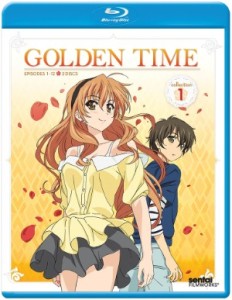 Title: Golden Time Collection 1
Director: Chiaki Kon
Author:  Yuyko Takemiya (Light Novel), Fumihiko Shimo (Anime)
Studio: J. C. Staff
U. S. Distributor: Sentai Filmworks, Section 23
U. S. Release Date: Sept. 30th, 2014
Format: Blu-ray / 12 Episodes / 300 Minutes
Genre: Romantic Comedy, Drama, Josei
Age Rating: TV 14
Overall Personal Rating: A-
Synopsis:
Tada Banri is beginning anew in the busy streets of Tokyo as a freshman student at a private law school, away from the troubles of his former life. While managing to get lost on his very first day of class, he finds himself befriending fellow law student Mitsuo on the way. Things get a little more interesting when a stylishly well-dressed beauty suddenly appears – only for her to slap Mitsuo across the face with a bouquet of roses!
The mystery girl is Mitsuo's childhood friend and self-appointed future bride Kaga Koko. It seems that more problems are on the horizon for Banri and his new friends with a troubling secret that will change them forever. What kind of new life has Banri stepped into and will he be able to survive the trials ahead of him? Join this group of friends as they attempt to discover themselves while juggling love, life, and a little drama!
Commentary:
One of the more popular story lines in anime over the last few years has been the use of amnesia as a important plot device. In Golden Time the discovery of this issue comes on slow, but ends up playing a very important role is creating the tension and drama in this straight forward love story. I have to say that using amnesia for this story works well and the way that it is given an almost counter intuitive aspect gives the series a life of its own.
The diversity in the characters also makes the series work well. It really does have the feeling of a collage where the students come from all walks of life and have a broad and various backgrounds. We have the rich who generally haven't experienced much in life outside their sheltered worlds and there are also students form the other end of the spectrum who have seen all kinds of experiences and don't always have the common sense to show restraint.
The animation itself is classic J. C. Staff. It looks warm and inviting.  I would think most us would connect with the artist work similar to Torardora! and even Waiting in the Summer. There is also some of the same feeling of visual statement found in Heavens Memo Pad. Golden Time continues to show why J. C. Staff continues to dominate these warm heartfelt stories and showcase their ability to make the visual and emotional come together.
Overall Grade: A-
I am easily soft at heart or rather a easy target for these emotional stories that give you great hope for the story and at the same time lee you wondering which way the love story will fall. There are plenty of possibilities left for Golden Time and don't even come close to believe that it will stay on the same trajectory that it is on. I think that the second half of the story will bring the story home in a wonderful way that will not only continue to give us hope in the power of love but also in the spirit of the human soul.
If you enjoy love stories that have a twist and want to see one that takes place in college rather than high school then you must check out Golden Time. It is a winner in my book.