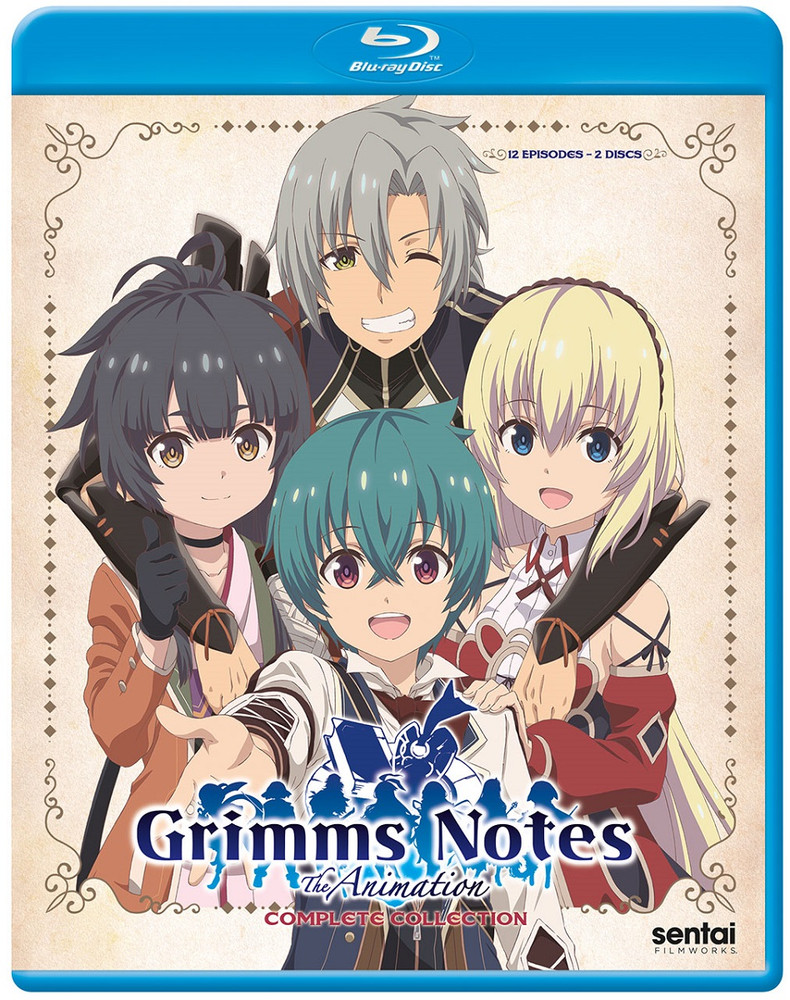 Title: Grimms' Notes The Animation on Blu-ray
Director: Seiki Sugawara
Writer: Hiroshi Yamaguchi
Studio: Brain's Base
U. S. Distributor: Sentai Filmworks, Section 23
U. S. Release Date: March 3rd, 2020
Format: Blu-ray / 12 Episodes / 300 Minutes
Genre: Fantasy, Drama, Game Derivative
Age Rating: TV 14
Overall Personal Rating: B-
Synopsis:
The mystical Story Teller created a world where everyone is born with a book that dictates their life story in advance. Everyone, that is, except for a handful of individuals with books full of blank pages that allow them to cross from one prewritten storyline to another and act of their own free will. That ability turns out to be a fortunate thing, as rogue plotters called Chaos Tellers are introducing new and unexpected elements into the most popular storylines, fracturing the course of fairy tales and bedtime yarns into the stuff of nightmares. Can Ex, Reina, Shane and Tao undo the repercussions of aberrations like Little Red Riding Hood suddenly gaining the ability to manipulate fire? Things are looking mighty grim indeed when our heroes must fight to un-revise the revisions!
Commentary:
I am always a little cautious when it comes to anime made from games and in the case of Grimms' Notes I am re-enforced in my learyness. Grimms' Notes is a good looking anime and has its moments, but the overall retelling of some of the sories that have been a part of the western culture for such a long time leaves me with the strange feeling that these creators missed to point. To be honest I don't always understand Japanese folk tales and historical mythology and different cultures see stories differently so, I guess that it is okay if they butcher a few European myths, ledgends and folk tales.
Overall Grade: B-
The real weakness with the series is the way they managed to wrap everything so easily. I thought the characters were solid enough and that the overall production values were right in line with the quality of work done by Brain's Base. The writing on the other hand left me wanting for a lot more.
I believe that this series could have been a real winner and with a little stronger understanding of these stories that they infused the series with there would be a much more robust fan base for it. I now understand why Sentai did not spend the money on dubing this series.
Bottom line is that if you are a fan of the game then you will want to see this series. If you are not a fan of Grimms' Notes the game then you might want to stick to someting less note worthy.