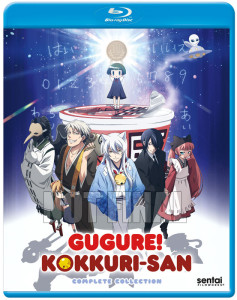 Title: Gurure! Kokkuri-San Complete Collection on Blu-ray
Director: Yoshimasa Hiraike
Studio: TMS Entertainment
U. S. Distributor: Sentai Filmworks, Section 23
U. S. Release Date: April 12th, 2016
Format: Blu-ray / 12 Episodes / 300 minutes
Genre: Comedy, Supernatural
Age Rating: TV 14
Overall Personal Rating: A
Synopsis:
Everyone knows that it's a really bad idea to play the Kokkuri game by yourself. After all, when you start randomly summoning ancient spirits, you never know what kind of ghost or oni might show up, or how long you may be stuck with them.
Unfortunately, tiny Kohina does lots of things that are bad for her, including living on a diet of instant noodles. So when she decides to play the supernatural game alone, she's incredibly lucky that she summons Kokkuri.
He may not be the most powerful fox spirit, but as soon as he sees the doll-like girl in a house filled with pasta, he knows that she needs a protector more than she needs a good scare. But fulfilling that goal is going to require more than just a Ramen Exorcism, because Kohina is a very strange little girl and it seems that Kokkuri isn't the only mystical being who's interested in her in Gugure! Kokkuri-san!
Commentary:
Now there are plenty of silly comedy anime out there and Gugure! Kokkuri-san is a great example. Wishing the first five minutes I was hooked. I found myself sitting with a perm grin on by the end of the first episode. The silly strange aspects to Gugure! Kokkuri-san makes you almost wish you lived alone and had animal deities come live with you. Each one is strange and deprived but at all are lovable in their own right.
Overall Rating: A
Gugure! Kokkuri-san is one of two new releases that manage to hit a high note in April. I'm not sure why these absurd anime draw me in, but I know they are funny and quirky which makes it easy to watch them and escape from reality even if for a few minutes. I have a feeling that many people may dismiss Gugure! Kokkuri-san just because it is silly, but I think that aspect is the one thing that should give everyone a reason to check it out.
If you are looking for something new and completely different then Gugure! Kokkuri-san is for you. I am serious when I say it is good, but be ready to get little creeped out from time to time.