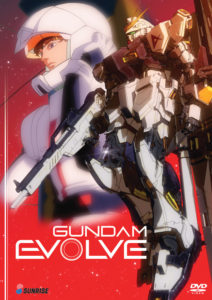 Title: Gundam Evolve
Director: Various – compilation shorts series
Studio: Sunrise
U. S. Distributor: Right Stuf
U. S. Release Date: May 3rd, 2016
Format: DVD / 120 minutes / 15 episodes
Genre: Sci Fi, Mecha
Age Rating: TV 14
Overall Personal Rating: C+
Synopsis: 
Explore the Gundam Universe from fifteen new perspectives!
Experience the ultimate visualization of the Mobile Suit Gundam Universe with fifteen short films featuring a mix of traditional and digital animation styles. You'll find adventures from multiple Gundam series, including side stories of characters such as Heero Yuy from Gundam Wing, and a retelling of episode 39 of the Mobile Suit Gundam TV series!
Features fifteen short Gundam films by directors like Kenichi Suzuki (JoJo's Bizarre Adventure), Shukou Murase (Gangsta., Ergo Proxy), Takashi Imanishi (Mobile Suit Gundam: The Origin), and more!
Commentary:
The Gundam universe is broad and wide and Evolve is one of the stranger corners of that Universe. These 15 shorts are all over the place and after a while you aren't sure what you are watching. It is very clear that the point of this compilation was to show off the awesome CG (Computer Generated Animation) in the early 2000's.  The flaw in having it released now is that the CG just falls short and is at time very hard to watch. The other major flaw is that the continuity fall s apart with have so many different directors and creators involved.
Overall Grade: C+
Gundam Evolve is something very special in the Gundam franchise, but looses in critical aspect of being well made and coherent. The overworked CG and felling that this is nothing more than a compilation of cut scenes or music videos will leave you wanting for a lot more. I also found the inclusion of SD (Super Deformed) shorts as distracting and not helpful in puling off the grouping.
For most Gundam fans Gundam Evolve will be one of those curiosities that they will buy to add to their collection. For everyone else this set is just a confusing grouping of Gundam shorts that will leave you scratching your head and asking yourself what just happened to the last two hours that you will never be able to get back.