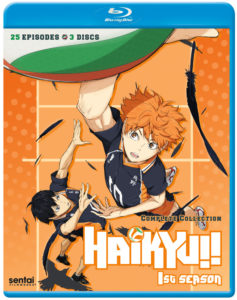 Title: Haikyu!! 1st Season on Blu-ray
Director: Susumu Mitsunaka
Studio: Production I.G.
U. S. Distributor: Sentai Filmworks, Section 23
U. S. Release Date: Nov. 14, 2017
Format: Blu-ray / 25 espisodes / 625 minutes
Genre: Sports, Comedy, Drama, Slice of Life, High School
Age Rating: TV 14 (really it should be PG)
Overall Personal Rating: A
Synopsis:
Shoyo Hinata isn't a large guy, but he's got huge ambitions. Ever since seeing a small player score in a National Championship, he's been determined to become the next big thing in High School Volleyball. Unfortunately, the one time he was able to pull enough players together to form a team in junior high, they were completely trashed in their first and only match against a team led by up-and-coming setter Tobio Kageyama.
Now, enrolled at the same high school where his idol once played, Shoyo's finally going to get his shot to join and play with a top team. There's just one problem: Tobio Kageyama's decided to attend the same school, and he's already considered one of the best players in the game. Can a kid out of nowhere hold his own against the King of the Court? Or could the rivalry and competition actually be the best thing for both of them?
In the wake of the blistering practice match against the Nekoma High School team, the Karasuno High School volleyball squad digs in and vows to bring their game up another level. Prior to the arrival of the new freshmen, the general belief was that Karasuno's day in the sun was over, but while the ongoing rivalry between Hinata and Kageyama has inspired everyone to push themselves even further, there's still a lot of friction that's ultimately slowing down their game.
It's not until the announcement of the brackets for the Inter-School tourney are announced that the reality of what they are attempting to do finally takes hold. As talented as each of the team members may be individually, they have no chance of winning unless they can finally come together as a seamless unit. Can Hinata and Kageyama put their battle for dominance on hold long enough to take on the overwhelming brilliance of the Aoba Johsai squad?
Commentary:
The number of sports anime that are being released in the U.S. has managed to hit an all time high and Haikyu!! is a pleasant addition. The story is simple and and the outcome is easy to guess, but the way it is coming together is pleasing and fun to watch. Shoyo reminds me a lot of a Naruto on the volleyball court. He is the little engine that can and with his desire to be on the court he manages to infect everyone around him. On the other hand Tobio is rather talented and arrogant but once these two are forced to be toghter they discover that they balance each other out and a natural team is born.
My only issue with Haikyu!! is that it falls into the trap that most sports anime fall into. This is another down and out team that has a bigger heart than talent and it comes down to the fact that they must rely on each other to make it happen. The first 13 episodes take us to that point were they discover that they still have a long way to go and set us up for a big comeback as the rest of the series develops.
Sports anime tend to make everything seem really hard and then pull out the magic at the end to prove everyone is a super hero. Haikyu!! takes a little different approach and just makes these wannabe champs and makes them something much more believable. They just become flawed heroes who try their best and long to stay on the court.
This passion to win is what makes the series worth while. Not all of the team members are superstars and those with natural abilities have issues. They learn the importance of trust and believing in themselves and come to understand what it means to be a part of something that on the surface may be meaningless to most, but ends up being important to them just because of each other.
Overall Grade: A
The great thing about Haikyu!! is that you get a blending of characters that make up the team and how they manage to work out the problems they face. I also like the fact that Shoyo has that never say die attitude but is only a little annoying. Most of the time you want him to succeed.
Most anime fans don't really line up for sports anime and to be honest Haikyu!! is a true sports anime. The thing that sets it apart is the fact that these players have are human and it is very easy to identify with because they are rather typical students who know they have to try harder to be better.
The series is full of feel good moments with an ending that speaks to more of us than those who are the superstars in life. The writing gets a tad preaching from time to time and maybe that is just the way it should be. I just think that some of the growth they have is a bit melodramtic with overall the development of the main characters is worth watching and rooting for.
Haikyu!! is a wonderful series that is a true feel-good story that takes on a hopeful ride and reminds us that even great stories don't always end the way we might want them to.