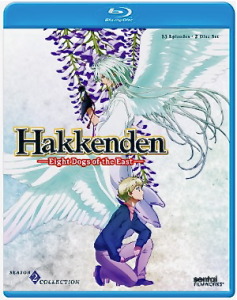 Title:Hakkenden: Eight Dogs of the East Season 2 Collection
Director: Mitsue Yamazaki
Creator: Miyuki Abe
Anime Adaptation: Osamu Yamasaki
Studio: Studio Deen
U. S. Distributor: Sentai Filmworks, Section 23
U. S. Release Date: Oct. 28th, 2014
Format: Blu-ray / 13 episodes / 325 minutes
Genre: Supernatural, Fantasy, Historical Myth, Action, Adventure
Age Rating: TV 14
Overall Personal Rating: B+
Synopsis:
Forced to choose between death and an unnatural life bound to the living sword Murasame, Shino Inuzuka chose the sword. Now, however, in the bloody aftermath of his transformation and Kohaku's death, Shino's awareness of the true scope of his bond with Murasame has expanded. Is he truly a curse to all who meet him?
In the end, the focus must return to the mysterious beads which started everything. What exactly are their origin and powers? Who and where are the holders who have not yet been located? And what are Rio Saotome and the Imperial Church's real roles in all of this? Does the woman who is "She," hold the answers?
Commentary:
Hakkenden: Eight Dogs of the East Season 2 is a great followup to the plot and story layer down in season 1. The follow through is seamless and it allows the tail to be revealed in a smooth and reliable manner. The characters are brought together and with the search for the remaining Dog Worriers things come together nicely. The episodes are well written and do a great job of telling us about each of the history of the remaining group. I felt like if there was a easy out for these characters to be brought together it was the fact that each was forced out of their home and ended up heading to the capitol city. Of course they needed to come together, but to make them abandon their homes the way they did seemed a little contrived.
The animation was well done and it suited the series well. It came across with a soft easy feeling that also aided in helping the characters remain sympathic and easy to stay connected to. I can't say that the soundtrack or music made any difference for me. I was somewhat stock and blended in to become nothing more than background noise. That in itself is not a bad thing and in this case I guess it was appropriate because the story didn't need a dramatic soundtrack.
Overall Grade: B+
I am a fan of the series and found most of it to be really enjoyable. If there was any aspect to it that I found unsettling it was the tendency to make Shino a object of desire for too many of the male characters. I really found that humor to be somewhat disturbing and rather tasteless. I would have rather seen more of a brother approach to the relationships. I know that there was a brotherly commentary running through the series when it cam to Shino and Sosuke and even some underlying connection with Rio Saotome. It is some of the other that seem to come across with more than a brotherly love .
I was also disturb that the story was not properly wrapped up. I guess that there is always hope that more funding will come along to allow production of a third season. If not I will be rather disappointed that there are so many questions left unanswered.
Hakkenden: Eight Dogs of the East Season 2 is a wonderful second step and it does a great job of bringing the group together. I believe that the fans of this series will be happy with season 2 and that they will also find some frustration with the way it is wrapped up.