Title: Hakumei and Mikochi, Tiny little life in the woods ; Complete Collection
Director: Masaomi Ando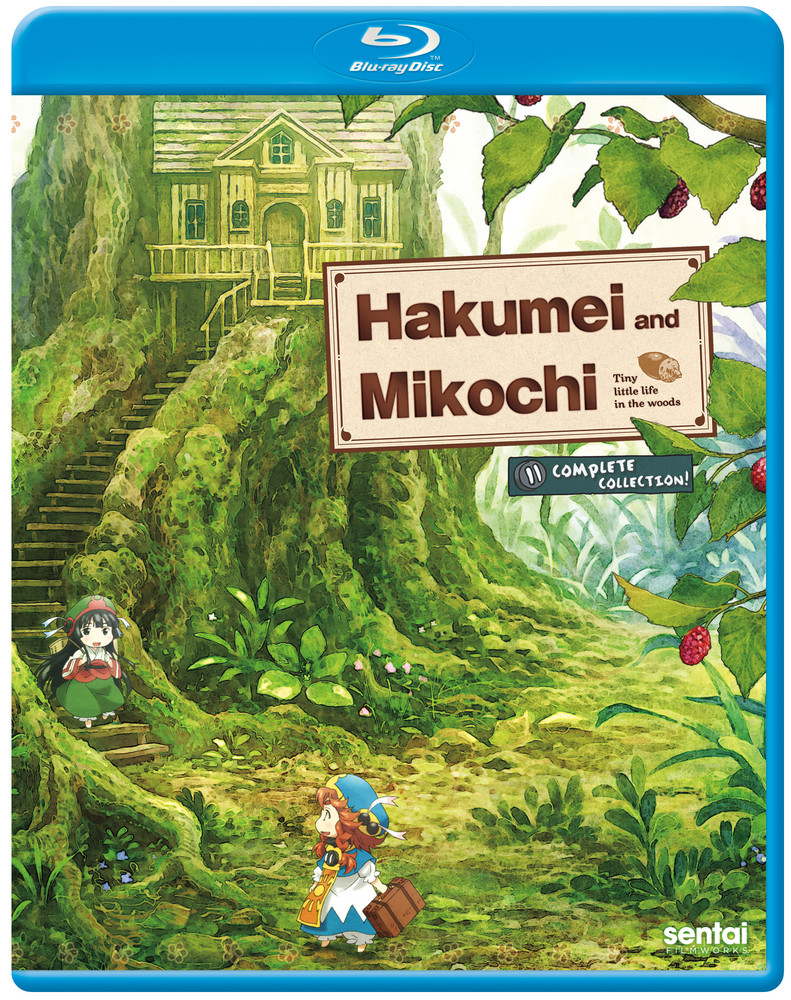 U.S. Publisher: Sentai Filmworks
Format: Blu-ray / 10 Episodes plus OVA/ 325 Minutes
Audio: English dub or Japanese with English sub
Genre: Slice of Life, Fantasy and Travel
Age Rating: TV 14
Overall Personal Rating: B-
Synopsis:
Hakumei and Mikochi share a house in the woods. They may be 3.5 inches tall, but their life is typical for living outside a village in a wooded rural area. The time period could be the 1800s (without electricity), but with an 2000s mindset.
We get to know the pair throughout the series. Hakumei is energetic, enthusiastic, a bit of an adventurer and has a talent for carpentry. She had been homeless and joined up with a traveling caravan for a while, before coming to the village, meeting Mikochi, whose talents range from sewing to cooking.
Their friendship is central to the series as they live out their daily lives, meet new people (or animals, or bugs), and go on some little adventures.
Commentary:
Hakumei and Mikochi is a quiet little fantasy with its miniature people, talking animals and some pseudo-science magic. In the American entertainment market, it is difficult to figure out who the target audience would be. It has an overall feel good kid's cartoon vibe, but there is smoking and alcohol consumption, which doesn't fit with that identity in here. True, I'm chronologically not a kid, and at first I wasn't too interested in the anime. There didn't seem to be a reason for them to be tiny people, which is annoying ( like in The Life of Budori Gusuko, there is no reason for them to be cats). I mean, if you look at the Borrowers or the anime take on that literary series, Ariettty, then you see how their size impacts their life and how they adapt to their surroundings and in turn adapt items into their little piece of the world. Here in Hakumei and Midochi, most of what they have and how they live is just like being a regular sized person. They have real houses and towns with regular doors, regular teapots, nearly every thing is regular. The big exception seems to be food in its natural state, berries are the size of their head, a fish is the size of a truck, and a daikon radish is the size of a mini cooper. Transportation seems to involve a rodent, whether they hop on the back of a raccoon or ride in the bus pulled by a guinea pig.
Size issues aside, I did get settled into the anime routine and this is what I liked about Hakumei and Midochi: I did choose this one by the cover for the pretty background art, which it continues throughout and didn't disappoint there. All the animation was good, the colors bright and saturated. The dub was good, not annoying, and I thought it worked well. The characters were likable, positive and upbeat and their friendship was nice to be a part of. I think that is what we often appreciate in anime, the friendship connection.
I think if you like Aria or Tamako Markert, you would also enjoy the series Hakumei and Mikochi.
Overall Grade: B- With all the cuteness of a beetle with a bow on her antenna, Hakumei and Mikochi is also available in a manga series.