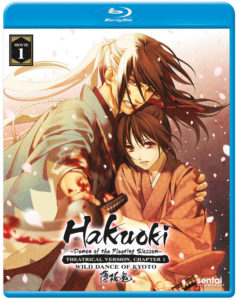 Title: Hakuoki: Wild Dance of Kyoto on Blu-ray
Director: Osuma Yamasaki
Studio: Studio Deen
U. S. Distributor: Sentai Filmworks, Section 23
U. S. Release Date: June 28th. 2016
Format: Blu-ray / Feature Film / 96 Minutes
Genre: Historical, Supernatural, Romance, Drama
Age Rating: TV 14
Overal Personal Rating: B
Synopsis:
There's a war going on in ancient Kyoto. A war fought in shadows, between the forces of the Shogunate's armed enforcers, the Shinsengumi, and the vampire-like Ronin warriors known as the Rasetsu or Furies. And trapped in the middle is a young woman disguised as a man.
Seeking her missing father, Chizuru Yukimura comes to Kyoto only to find her fate forever intertwined with the destinies of Shinsengumi Vice commander Toshizo Hijikata and his elite force of swordsmen. Because Chizuru's father has created a secret elixir that enhances the user's strength, speed and healing, and the furies will do anything and kill anyone in order to control that power!
Historical fact and nightmarish fiction combine as the world of the hit series HAKUOKI returns in a stunning new epic feature film: HAKUOKI: WILD DANCE OF KYOTO!
Commentary: 
The popular series Hakuoki is back with another film that deals with the Shinsengumi and the external forces looking to destroy both their way of life and them if possible. This 96 minute retelling of the first season does a great job of convening the story but leaves a few important parts out. None-the-less it still gives us the feel and context of what is going on. I never have been a fan of the re-telling movies, but in some cases it is a wonderful way to get more people involved in the story and maybe even get a few of them interested enough to dive into the series to pick up the information that is left out.
Overall Grade: B
The animation for Hakuoki: Wild Dance of Kyoto is above average, but it leans on CG a little too much. I find it better if historical stories stick to a rather traditional anime format rather than trying to make things look too slick. It wasn't anything overly disturbing but it detract a little.
The area that I found to have the greatest impact on the story was the writing and the melodramatic overtures that ran through it. I guess that with so many of the characters so serious it was hard to see some of them come across as less dedicated. I also thought that there was way too much dark presence in the film to allow the viewer to become relaxed and get with the story.
Hakuoki: Wild Dance of Kyoto is a good entry film to the series and it should be approached as just that. If you are looking for a solid historical film with plenty of mystery and a bit of supernatural essence then Hakuoki: Wild Dance of Kyoto is something you should check out.