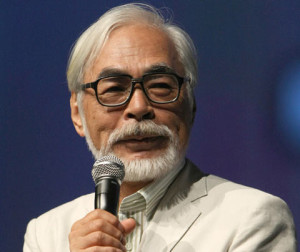 news provided by ANN, Otaku USA and Daily Sports
This September, we reported on the announcement that Hayao Miyazaki – famed director ofPrincess Mononoke, Spirited Away and The Wind Rises – would be stepping down from the director's chair. We also expressed some skepticism that the notoriously hardworking master would be able to sit still too long.
So color us entirely unsurprised by news out this week that Mr. Miyazaki is reportedly working on a new manga series.
That's the word from Ghibli co-founder and producer Toshio Suzuki, who all-but-confirmed Miyazaki's working on a manga based on Japan's sengoku jidai, or warring states period, when Japan was ruled by feuding warlords and there were samurai battles aplenty.
Ghibli's other co-founder, Isao Takahata, also mentioned at a press conference for his new film, Princess Kaguya, that he doesn't expect Miyazaki to be able to resist the pull of a new creation.
While Miyazaki is most famous for directing films, remember he's also a skilled manga artist. His mangaNausicaa of the Valley of the Wind, originally created as a kind of pitch for the film, ended up running seven volumes over 12 years.
Now, to be fair to Miyazaki, he only said he was retiring from directing feature films, so this is all good and fair. But seriously, Miyazaki, take a break! Go play some golf or something!
On second thought, scratch that. Please keep making wonderful stories. Forever.