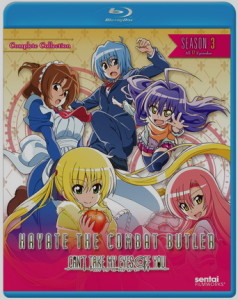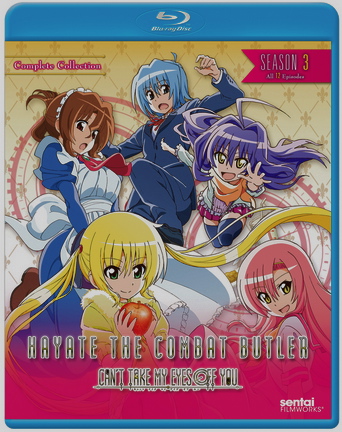 review provided by Katie and Andrew
Title: Hayate The Combat Butler-Can't Take My Eyes Off You: Complete Collection
Director: Masashi Kudo
Studio: T.V. Tokyo
Author: Kenjiro Hata
U.S. Distributor: Sentai Filmworks, Section 23
U.S. Release Date: April 28, 2015
Format and Length: Blu-ray / 12 Episodes / 300 Minutes
Genre: Fantasy, Romance, Parody and Harem
Industry Age Rating: 14 and up
Overall Personal Rating: C
Similar Series or Titles to Check Out: Amagami SS
"Don't lump me, Sanzenin Nagi, with your typical otaku. Whether it's a video game, anime or manga, I'll only rate it after I've played, watched, or read the entire thing! Even though I might initially think, 'Whoa, talk about a total letdown!' "
Synopsis:
Hayate Ayasaki's life has never been easy, though after being sold to Yakuza who want to harvest your organs to pay off your parents' debts it's hard to imagine things sinking much lower. However, since becoming employed as the butler/bodyguard for the spoiled, cold hearted teenage heiress Nagi Sanzenin, Haytate's misery has been primarily focused around Nagi's insecurity, laziness and the frequent attempts by various parties to kidnap her (with the occasional scheme cooked up by her Grandfather on the side).
When a new and unexpected relative arrives without warning and issues concerning Nagi's long dead father and his belongings rear their ugly head, Hayate finds himself thrust even further into the deep, dark, messy drama of the Sanzenin clan's personal affairs. But that is only the beginning of his troubles, as somehow aliens, haunted swords, an untrustworthy kitten and even a cross-dressing curse are thrown into the mix as well. Will Hayate fight his way through these epic complications? Or will his undoing come at a substantial cost?
Commentary:
Hayate The Combat Butler-Can't Take My Eyes Off You: Complete Collection is the third season of the Hayate The Combat Butler franchise however, it is an original concept and is not directly based on the manga. The episodes are labeled as nights, such as first night, second night and so on. The first six episodes were filler episodes and the last six were where all the action and actual plot took place. They tried to give all of Nagi's background in the first six episodes when they could have condensed it into three episodes so the actual plot and story line would not have seemed so rushed.
Nagi Sanzenin is a spoiled and lazy tsundere character, even more so than the first season. She makes unreasonable demands on Hayate and gets herself into trouble as always. She would rather watch the newest anime series and play the newest games instead of going to school. I really believe she would be happy to just do that every day and never leave the house, living a NEET lifestyle. Hayate, her butler, and Maria, her maid, try and make her understand that she must go to school but it mostly falls on deaf ears. Rui Tsugumi appears out of nowhere claiming to be Nagi's little sister but in reality she is just looking for the Sanzenin family fortune, the Black Camellia. Rui is also a tsundere-type character and specializes in martial arts. She is also the comic relief character, and is picked on heavily for the entire series, which is understandable, she was a pretty bad character, whose only purpose seems to be to bring even more 'moe loli tsundere' to this series, which not only is unnecessary, but makes her a waste and very forgettable. Another issue was Maria, who seemed very dimwitted (see the vent scene) and was very dull and almost drone like. Most of the characters seemed that way towards the end.
Another thing was the art. I still have not gotten over that actually. In the original series, it was pretty decent, and full of color. In this one, it lacked the same. Hayate seems to have changed genders and looks more feminine than ever. Everyone else was designed with the same head with different hair colors and styles. It was even worse than the original. The backgrounds even seemed more dull and lifeless than ever. I guess in the end Nagi was right, "Whoa, talk about a total letdown!"
Extras:
Hayate The Combat Butler-Can't Take My Eyes Off You: Complete Collection includes clean opening and closing animations and Sentai Filmworks trailers as special features. This series was released with Japanese with English subtitles as the only language option.
Overall Grade: C
All in all, Hayate The Combat Butler-Can't Take My Eyes Off You: Complete Collection is more of a standalone series instead of a third season. It is an interesting harem though, if you enjoy the harem genre.