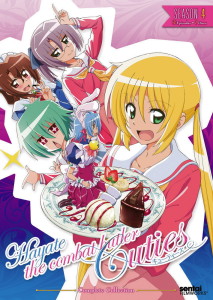 review provided by Katie and Andrew
Title: Hayate the Combat Butler: Cuties-Season 4
Director: Kenjiro Hata
Studio: Manglobe
Author: Shinichi Inotsume
U.S. Distributor: Sentai Filmworks, Section 23
U.S. Release Date: June 23, 2015
Format and Length: Blu-ray / 12 Episodes / 300 Minutes
Genre: Comedy, Romance, Harem, Parody
Industry Age Rating: 14 and up
Overall Personal Rating: C+
Similar Series or Titles to Check Out: Amagami SS and Hayate the Combat Butler: Can't Take My Eyes Off You
Synopsis:
Hayate and Nagi are back for Hayate the Combat Butler: Cuties and Hayate is back to saving the day. He nurses everyone through an illness, retrieves an embarrassing video before it hits the internet, and returns stolen money; and that is just normal day-to-day life for Hayate. However, as awesome and competent as Hayate may seem, there is actually one thing he is not particularly good at-noticing when pretty girls are attracted to him. But that will not stop the young ladies from trying to catch his eye, even as the art of domestic service becomes inexplicably intertwined with the martial arts?
Commentary:
Hayate the Combat Butler: Cuties was a great series up until the last two episodes. The first ten episodes each focused on one or two of the main girls of the series, a-la Amagami SS. I thought this was a good thing as it led to character background being given and character development as they worked through whatever problem was in the episode. The last two episodes really belonged with the previous season, Hayate the Combat Butler: Can't Take My Eyes Off You, as it was an alternate ending to that series. Yes, it did also add to Hayate the Combat Butler: Cuties plot but it also took away from the story as a whole.
In some of the character specific episodes we are also introduced to some new characters but they are not well introduced so unless you have read the manga you will probably be lost. If there is a Season 5 I hope they give those characters some background. Each character specific episode can stand alone except for the first as it reintroduces everyone in case you have forgotten anyone. Hayate the Combat Butler: Cuties had a lot of funny moments that will have you laughing and there was also some romance but it was only from the girls as Hayate is still clueless. I think my favorite episode was the Maria one because we finally learn about her past and find out that she is very young but very smart.
The animation was very cute and drawn well. The voice actors were spot on as always and I could not imagine anyone else voicing these characters. The opening and closing songs were J-Pop like and were catchy. There was a bit of fan-service but nothing over the top. Also there was a couple of episodes with Hayate cross-dressing so be warned.
Extras:
Hayate the Combat Butler: Cuties included clean opening and closing animations and Sentai Filmworks trailers as special features. This series was released with only one language option, Japanese with English Subtitles.
Overall Grade: C+
Hayate the Combat Butler: Cuties is a cute series and would have a higher grade if the last two episodes were not included in this season. Overall, I recommend this season over Hayate the Combat Butler: Can't Take My Eyes Off You because you get to know the characters better.