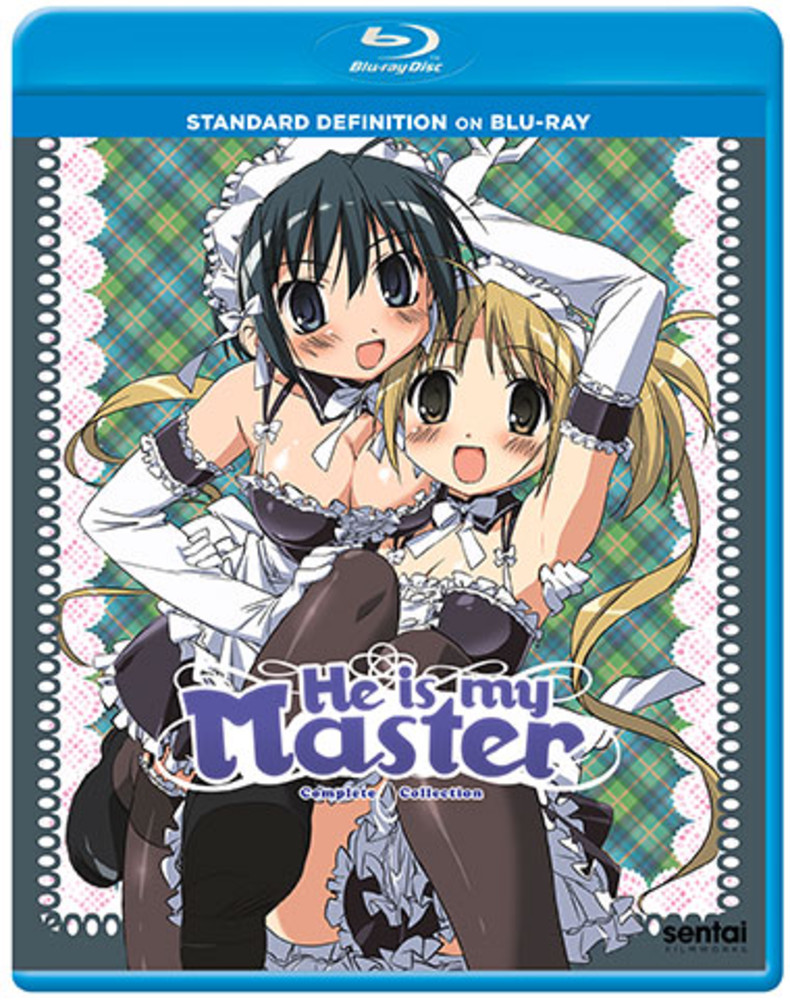 Title: He is My Master: Complete Series on Blu-ray
Director: Shouji Saeki
Studio: Gainax, Shaft
U. S. Distributor: Sentai Filmworks, Section 23
U. S. Release Date: June 25, 2019
Format: Blu-ray / 12 Episodes / 300 Minutes
Genre: Harem, Comedy, Fan Service
Age Rating: TV 14
Overall Personal Grade: C
Synopsis:
Yoshitaka Nakabayashi may be young, rich and not unattractive, but as runaway sisters Izumi and Mitsuki Sawatari quickly discover upon becoming Yoshitaka's new maids, he has some SERIOUS issues. Like his insistence on being called "Master", and dressing the girls in costumes he creates himself.
Unfortunately, Izumi's personal net worth is in the negative digits, and with Mitsuki and her pet alligator to support, she'll just have to grin and bare whatever comes out of Yoshitaka's twisted closet! But the costumes are only the beginning, and when Anna, a third au pair with obsessive issues of her own, joins the party the situation will go from bad to perverse. The rules of dealing with domestic help have never been so completely abused as when the madmen at Gainax (Evangelion, FLCL) unleash their most demented series ever!
Commentary:
Sentai has done it again. They have reached in their closet to try and resurrect an older series just to remind us of how far we have com in almost 15 years and also how far we haven't come. He is My Master is a real reminder of how strange Gainax could be and how perverse anime hard core fans are. He is My Master is one of those series that does everything it can to ruin a sometimes decent genre by taking the silliness over the top. Me is My Master took comedy and fan service and left the writing on the floor. The basic premise of the series if a setup for creepy and almost abusive behavior to be seen as okay, but in reality it is not.
The only redeeming quality was the comedy that managed to find its way to the forefront from time to time. Other than that I ended up not liking the characters very much and most of the writing was flat.
Overall Grade: C
I understand that this series is pointed at a very specific audience and that this is the kind of stuff they enjoy, but if it was really geared to them the fan service would have been more explicit. Even that was lacking. Most of all the production quality, even for 2005, was way too low to make the series enjoyable.
So, if you are looking for some laughs and a reminder of how things used to be the He is My Master is a sure thing.