fgf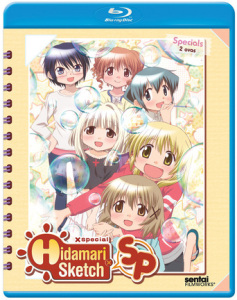 Title: Hidamari Sketch x SP
U. S. Distributor: Sentai Filmworks
American Release Date: Dec 16, 2014
Format / Length:Blu-ray / 2 episodes, 50 min.
Genre: Comedy
Age Rating: 13+
Overall Personal Rating: B+
Synopsis: 
Some of the student at an art school live at the Hidamari Apartments. They are classmates and friends.  This short anime (2 episodes) is about what they do when they have a time away from school and home. Fittingly for art students, they head out on a day trip to the art museum. Another trip takes them to the local pool, even though not all of them can swim. But you got to start somewhere and they have fun teaching each other. Heading to a buffet with their landlord, they have a memorable game of sushi roulette.
Back at the apartments, even washing the curtains become fun when they decide to use the wading pool. Think bubbles. They also make time for a pajama party.
Commentary:
Hidamari Sketch x SP is a sweet anime with plenty of giggles for the characters. The art students are peppy and optimistic, having fun just  spending time together and experiencing regular life. Even though this is only two episodes and related to a series or two, you  do not need to have seen the other series to enjoy it.
I found the look to be inventive and varied in the use of animation styles and techniques. Often crisp and simplistic, but specialized in other areas. Visually, my favorite was the way they portrayed the water.
I think this anime is geared toward a younger audience and predominately female.With no enemies, dangers or troubles, this is a light and enjoyable show, a great way to relax with some friends that appreciate life and especially their relationships.
Overall Grade: A-    Very cute, all about cute from the cute upbeat peppy opening to the voices th the art style to the characters themselves.