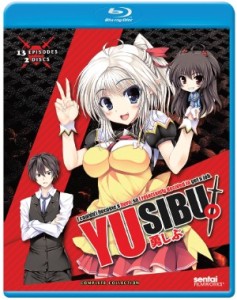 Title: I couldn't be a hero, so I reluctantly decided to get a job. Yusibu: The Complete Series
Director: Kinji Yoshomoto
Writer: Masashi Suzuki
Studio: Asread
U. S. Distributor: Sentai Filmworks, Section 23
U. S. Release Date: Nov. 18th, 2014
Format: Blu-ray / 13 episodes / 325 Minutes
Genre: Harem, Supernatural, Action, Adventure
Age Rating: TV 14
Overall Personal Rating: C+
Synopsis:
Raul Chaser never wanted to work in retail, but when the war against the Demons ended unexpectedly, the Hero Training Program he was in shut down. But although combat-trained Raul may feel out of place dealing with customers in a department store instead of dealing out death with hardened steel, his newest co-worker's culture shock is even worse. While Fino Bloodstone is ready, eager, and willing to please, she's also the daughter of the now-deceased Demon King!
Not only are her social skills a little challenged, but it's going to be up to Raul and the staff to teach her the finer points of the human concept of a "pleasant shopping experience"… not to mention when it's proper to wear what kind of clothes and whose bed you can sleep in. And they'll have to do it quick, because there's a sinister major retail chain moving into the area with plans for global domination.
Commentary:
First of all I want to say that I feel like the rating on this series is off the mark. I honestly believe that because of the amount of nudity that Yushibu should be rated TV MA. It is not just the fact that there is some partial nudity, the issue I have is that in almost every episode there are fully developed undressed breast showing and it is not like the old days when the breast were just round bumps, these are as realized as possible and meant to arouse the viewer not just an teasing prop.
Now that I have said my peace regarding the rating I can get into the series. I think that the plot and story line are a fun and light approach to a classic fantasy genre. The idea that the demons have been subdued and that there is no longer a need for heroes is a great idea and then add in the thought of what they would have to do with their lives. This is also approached in the popular series The Devil is a Part Timer, but for Yusibu the main characters haven't lost their magical powers they just have to forget that they have them and adjust to being a normal work-a-day person. Then they through in the mix of demons and humans having to learn to live together without being at war is a great play on a very real subject that our world has to deal with all too often.
I think where it falls apart for me is that they try to hard to make it funny and sexy at the same time. I think that the focus was more on the bouncing boobs rather than the story. At times the sexual humor was funny, but most of the time it felt like pandering to a very specific fan base. I know that this is not unusual and that there is plenty of money to be made appealing to this fandom. Shows like Sekirei, Ikki-Tousen and Tenjo Tenge have proven the viability of this approach to story telling.
Overall Grade: C+
When I get right down to it I would have to say that this may be a funny and inventive series, but the overall focus on fan service overwhelms the rest of the story. It really want until the end of the series that I began to really connect with several of the main characters. This help bring my opinion of the series up a little and would now like to see how the series would develop now that stability has been established between the Demon King and the Hero.
There is one other series that pulls the female Demon King and Hero together and the story take a completely different approach to how the two realms can co-exist. That series is Maoyu, but if you want funny and bouncy breast then I couldn't be a hero, so I reluctantly decided to get a job: Yusibu is the series for you. I id find it better than other series like Sekirei and Ikki Tousen.