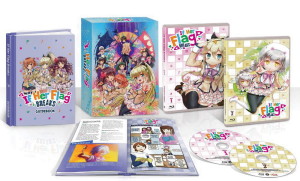 Title: If Her Flag Breaks: Premium Edition
Directed by: Ayumu Watanabe
Written by: Takashi Aoshima (anime), Toka Takei (original story)
Studio: Hoods Entertainment
U. S. Distributor: NIS America
U. S. Release Date: November 3rd, 2015
Genre: Harem, Romance, Comedy
Age Rating: T 13+
Overall Personal Rating: B
Synopsis:
Souta Hatate is a new student at Hatagaya School. His cold and impersonal manner draws the attention of Nanami Knight Bladefield, a princess of a European nation, and she confronts him about it. He reveals that he is the only survivor of the sinking of the cruise ship Premium Ambriel. On that tragic day he received a special power from a mysterious stranger: the power to see people's fates in the form of flags sprouting from their heads.
Some flags are simple things like "friendship" flags, but others are more ominous, like "death" flags. Over the next few days, more and more classmates and friends are drawn to him and live with him at the Quest Dorm, and Sota must occasionally use his powers to alter their fates. He and his new friends and dormmates get up to all kinds of fun adventures. However, he eventually discovers that there is more to his power, and the world itself, than he realized.
Commentary:
If Her Flag Breaks falls into the classic Harem / Comedy genre and it follows all of the defined formulas that you would expect to find, even in a story that one of the strangest plot lines I have come across in some time. Why are there flags piping up out of their heads, why not an aura or even a cloud? Once I got past the basic concept I was able to get into Sota's collection of all these girls. I did find it rather odd that he was able to say just the right thing to get them to fall in love with him. He is a typical sad sack who feels like he shouldn't be around others because of his strange ability was magically given to him. Well, like I said, the plot line is a stretch and is the one major issue I have with the series.
The writing is solid enough and they do spend enough time developing the characters with a steady pace that keeps you coming back for more and of course I can't think of a red blooded boy who wouldn't trade anything for the life Souta and living situation. Still, it leave much to be believed. I found the concept behind most Harem series hard to believe but of course that is not the point. The one thing that I did appreciate was the lack of blatant fan service. It is refreshing to have a Harem series that is more interested in the story than panty shots.
Overall Grade: B
If Her Flag Breaks is a bit of a surprise for me as a NIS America title. I didn't find it as endearing as some of their other releases like Anohana, Eccentric Family or even Arakawa Under the Bridge. Never-the-less If Her Flag Breaks is a fun Harem / Comedy that keeps you wondering what is really going on and also wondering if Sota will pick just one of them to love and will he break the others hearts in the end.
If you are a true Harem fan then you will find If Her Flag Breaks a refreshing change of pace and a story the defies explanation. The premium edition is slick and the book lives up to the standard for NIS products. I think that If Her Flag Breaks should be a real hit with the target market and I am looking forward to see the OVA if it makes to our shores.