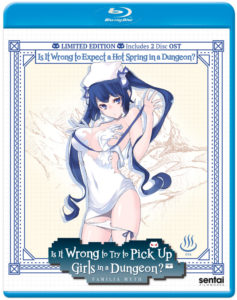 Title: In Is It Wrong to Expect a Hot Spring in a Dungeon?!
Director: Yoshiki Yamakawa
Music by: Keiji Inai
Studio:  J. C. Staff
U. S. Distributor: Sentai Filmworks, Section 23
U. S. Release Date: May 8th, 2018
Format: Blu-ray/ 25 Minute OVA / 2 Music CDs
Genre: Fantasy, Comedy, Action, Adventure, Fan Service
Age Rating: TV MA
Overall Personal Rating: B
Synopsis:
In Is It Wrong to Expect a Hot Spring in a Dungeon?! contains the OVA and 2 Disc Original Soundtrack.
Our band of bold adventurers has just blown through the 18th level of the world's most fearsome dungeon, so what do they do for an encore?
Since the city of Orario doesn't have a theme park, the next choice for Bell, Hestia, Lilly and the gang would seem to be a trip to the hot springs… and, conveniently enough, a battle with some hellhounds has led them to an undiscovered underground oasis! However, there's something fishy about these springs, beyond the fact that Hermes happens to have bathing suits for all the ladies in their correct sizes! Will the secret be discovered before it's too late? Will Hestia finally come clean with Bell? It'll all come out in the wash when our heroes learn the answer!
Commentary:
All in all, In Is It Wrong to Expect a Hot Spring in a Dungeon?! is exactly what you would expect from a 25 minute OVA that is clearly about the characters in a Hot Spring. Of course, this is Is It Wrong To Pick Up Girls in a Dungeon and it is really about the sexual innuendoes and fan service. I didn't expect anything else and that is what I got. The OVA did not try to hide its meaning or shy away from what it was trying to purvey. The real purpose of the set is the 2 Music CDs. That is a full 95 minutes of music.
The animation is the same quality as the series and there is nothing to note there and the music is a rather standard fair for soundtracks I guess the one big this is that you won't find the opening or closing soundtracks on the CDs just a full tracks of music. The majority of them are rather ordinary European style orchestral arrangements that are so short that they really don't express much of any feeling. There is a large amount of songs and also understandably relate back to the fantasy aspect of the series but that is as close as it gets.
Overall Grade: B
I completely understand the reasons for putting In Is It Wrong to Expect a Hot Spring in a Dungeon?! out and can see why this can find a solid place in someones collection. Where it all breaks down for me is the soundtrack and the solo issue of the OVA. For me it is clear that the OVA should have been packaged with the series and I honestly am not sure why the soundtracks even exists.
This little set is something that Is It Wrong fans will have to have and for everyone else I think it is a maybe. For the real essence of the set it really comes down to the CHEESECAKE. You would never guess from the cover.