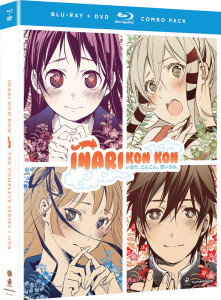 Title: Inari, KonKon Iroha complete series 
Director: Toru Takahashi
Creator: Morohe Yoshida
Anime Writer: Toru Takahashi
Studio: Production IMS
U. S. Distributor: Funimation Entertainment
U. S. Release Date: July 28th, 2015
Format: DVD / Blu-ray / 10 episodes + 1 OVA / 250 Minutes
Genre: Supernatural, Comedy, Romance, Slice of Life
Age Rating: TV PG
Overall Personal Rating: A-
Synopsis:
Inari is a sweet and shy middle school girl with a HUGE crush on Tanbabashi, one of the cutest guys in her grade. But she's not smooth enough to tell him how she feels, and every time she tries things just keep getting worse! That is, until one day she saves an injured fox struggling on a riverbank. To Inari's surprise, the fox turns out to be the familiar of Uka, a beautiful goddess. As thanks, Uka grants Inari the power to shape-shift, and Inari uses her newfound powers to attempt to win over Tanbabashi. Unfortunately, love isn't as simple as changing forms, and to make matters worse, the spirit world is none too pleased about Inari's divine powers!
With memorable characters and beautiful scenery, Inari Kon Kon is the perfect blend of comedy, romance, and divine magic!
Commentary:
The Japanese love of their mystical gods is something that we in the west have a hard time understanding especially when the god is a Fox spirit that's watches over us and listens to our petty wishes. Of course there is the off chance that they will grant that wish or somehow enlighten us , but most of the time is it a very benign relationship.
This concept always gives me a sense that there is much of our existence that I just don't understand, but would love to experience in the same way that those other cultures do.  Irani KonKon takes this complex ideal and makes is a simple and enjoyable story. There are plenty of examples of this archetype and some of them are great and some aren't, but Inari, KonKon appeals to a younger audience and does a wonderful job of telling the story without making it to confusing or tossing a twist out at the end.
Overall Grade: A-
Because of the straight forward story line and  wonderfully warn nature I see Inari, KonKon Iroha as a great family series that all ages can enjoy. I also see it as something that a a younger set between 10 & 15 would find it as something they could relate to. The only setback is that fact that many potential fans will not take the time to watch it because it is only subtitled and not given an English dub. I also found myself really wanting to go and see this large shrine and experience the richness of the culture.
Inari, KonKon Iroha is a plus in my book and if you are looking for an easy series to watch that will leave you smiling then you should pick this one up.