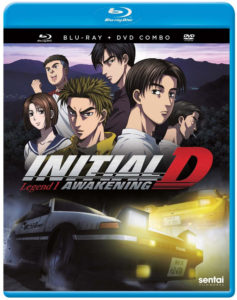 Title: Initial D Legend 1 Awakening
Director: Masamitsu Hidaka, Tomohito Naka (co-director)
Studio: Sanzigen & Liden Films
Distributor: Sentai Filmworks, Section 23
Release Date: Dec. 5th, 2017
Format: Blu-ray / Feature Film / 60 minutes
Genre: Car Racing, Coming of Age
Age Rating: TV 14
Overall Personal Rating: B
Synopsis:
In Initial D Legend 1: Awakening, when aspiring racer Koichiro Iketani witnesses an unplanned street duel between Keisuke Takahashi, a member of a rival race team, and a mysterious Toyota Sprinter Trueno AE86, Koichiro's totally blown away by the skill of the 86's driver. What Koichiro doesn't know is that the driver is fellow gas station attendant Takumi Fujiwara, who was making a late-night tofu delivery for his father, a legendary Mt. Akina driver himself.
Unforeseen events are about to springboard Takumi into the center of the street-racing world, turning the rivalry between Iketani's Akina Speedsters and Takahashi's Akagi Red Suns into an all-out street war! The legendary series that introduced the west to the sport of drift racing is reinvented in an all new feature film that's even faster and more furious than ever before: NEW THEATRICAL MOVIE INITIAL D LEGEND 1: AWAKENING!
Commentary:
Initial D is one of those series that has lasted the test of time even though the cars have shown their age there is something very real about teenage boys and cars. That is really the only thing that Initial D Awakening has going for it. I know that if I were still in my 20's or even my 30's I would be all over this film, but I found it rather single minded and lacked a depth that I was hoping for. The fact that the natural racer (Takumi) doesn't really care about racing and is just doing it to get home faster. There is also the connection between Takumi's father and his racing history that is way to easy and somewhat disappointing.
The plot does hold up and Awakening does a great job of setting us up for the second film. The animation is good and the work that went into the races really paid off. There is also an attention to detail on the cars that I found interesting and reassuring. The voice acting was much more typical and fell apart at time and lent itself to the typical American answer of overacting for some of the core characters that tend to add a tension that isn't needed.
Overall Grade: B
Initial D Legend 1: Awakening has everything any Initial D fan will need to make them very happy. It is also a great film for any young man between the age of 15 and 40 who is into cars. This gives a very special depiction of Drifting and what made it so very special in the 80's and 90's.
It is always fun to get a feeling for the beginning of a story line and get a sense of what these beloved characters were all about before the original series began. Initial D Legend 1: Awakening does several things very well and a few thing not so well. The biggest issue for me is that the film is broken into two films and maybe should have been edited so that it is just one full length film.
Initial D fans get your motors running!