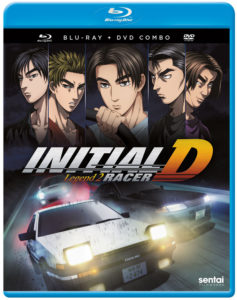 Title: Initial D Legend 2 Racer
Director: Masamitsu Hidaka, Tomohito Naka (co-director)
Studio: Sanzigen & Liden Films
Distributor: Sentai Filmworks, Section 23
Release Date: March 13th, 2018
Format: Blu-ray / Feature Film / 60 minutes
Genre: Car Racing, Coming of Age
Age Rating: TV 14
Overall Personal Rating: B-
Synopsis:
In Initial D Legend 2: Racer, sometimes the only thing that beating a champion accomplishes is making you the next target for a long line of challengers, which is why Takumi Fujiwara's defeat of the RedSuns' Keisuke hasn't ended anything. In fact, it's only served to draw the reluctant delivery driver even further into the dangerous world of drift racing. Takumi's fate is sealed when his friend Itsuki accidentally accepts a challenge from Takeshi Nakazato, leader of the Myogi NightKids. Now it's a matter of honor, and Takumi will have to pit his gutter technique against the 4WD skills of a much more experienced driver! The race is on as the legendary street racing series returns in a second explosive new motion picture!
Commentary:
As with many anime film series there is almost always a letdown as we move through the story. Initial D Legend 2 Racer is just that. While watching it I felt like there was a typical answer to a strong start. Simply put they turn our reluctant hero into the focus of all the racers and give him a tarnish that is not deserved. Now there is a honest push of tension in how all of this plays out, but the writing did fall flat for me.
I did feel like some of the action was solid enough and the racing was given a rather slick production overall. I do feel as though some of the story felt forced and rather uneventful. The overall production values were good, but I can see where the original series emulation was a little to much in the minds of the creators.
Overall Grade: B-
If this Initial D movie series was reworked with higher end production and a stronger writing team then it is very possible it would have been a home run. Drift and street racing is not what it used to be and it comes across in the film as more of a historical oddity. It is very possible that it still has a solid following in Japan but here in the States it is dated. The story itself is somewhat of a classic trope that ha a racing theme and it plays out just that way. For all you Initial D fans you will not be disappointed. For all those newbies out there just be warned, it does come across a little worse for the wear.