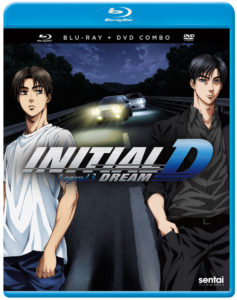 Title: Initial D Legend 3: Dream on Blu-ray
Director: Masamitsu Hidaka, Tomohito Naka (co-director)
Studio: Sanzigen & Liden Films
Distributor: Sentai Filmworks, Section 23
Release Date: June 12th, 2018
Format: Blu-ray / Feature Film / 60 minutes
Genre: Car Racing, Coming of Age
Age Rating: TV 14
Overall Personal Rating: B
Synopsis:
In Initial D Legend 3: Dream, this is it! As the final showdown between breakout downhill racing phenomenon Takumi Fujiwara and Ryosuke Takahashi, the unbeaten leader of the Akagi RedSuns, draws near, both drivers and their teams go into overdrive. Takumi's 86 and Takahashi's RX-7 are broken down, retuned and transformed for battle. Skills that are already at the top of their form are honed into razor sharpness. Takumi must resolve his romantic situation with Natsuki. And then the race is on! Get ready for the ultimate duel on blacktop as the masters of drift square off in a winner-take-all competition that will steal your breath away in new theatrical movie Initial D Legend 3: Dream directed by Masamitsu Hidaka!
Commentary:
This last of 3 films does a wonderful job of bring us to the classic series. As with the other two films the story helps us get back up to speed with the essence of the Initial D franchise and introduces us to everyone that matters early on. Bottom line is that it Takumi is forced to understand his talent and discover what makes him really want to do this. On the other hand you have Ryosuke who knows why he does this and why he must be the best. In the end there is the final challenge between pure natural ability and cunning knowledge.
For any guy that is into cars and racing this series of films and the original series would we a great fit. For everyone else that might not be enough to keep them involved.
Overall Grade: B
I thought the animation production values were average at best and that some of the racing scenes tended to over develop the racing, but in series and films like this it really is about the drama and how to show it. I guess that all too often I felt like I was in a Bleach scene where some huge power was being unleaded rather than racing in some road race.
I guess that thing that failed me the most was the overall weakness of some of the main characters. I went away feeling rather cold toward Takumi and somewhat sorry for Ryosuke and maybe just maybe that is what they wanted, but the films are setup to make you want to root for Takumi. I guess I just didn't care enough about him or what he was doing.
I do know that fans of the original Initial D series will love every minute of the films and snap them up like crazy. Maybe at some point in the future all 3 films will be released in one set.