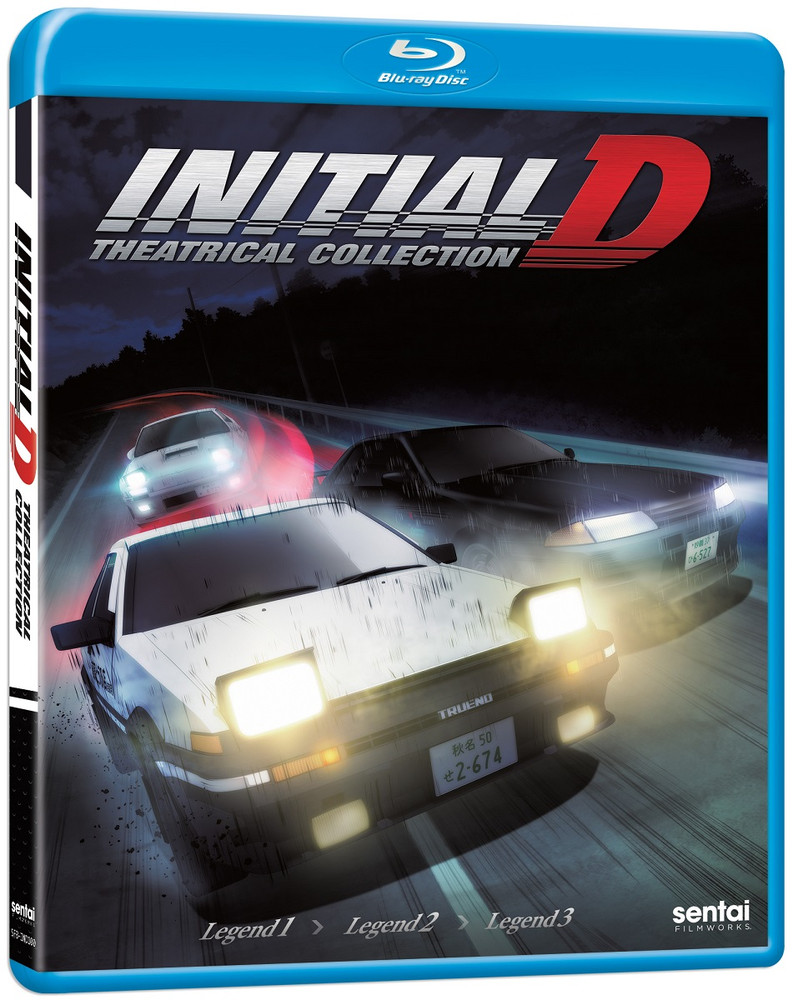 Title: Initial D Legend Theatrical Collection Blu-Ray
Director: Masamitsu Hidaka, Tomohito Naka (co-director)
Studio: Sanzigen & Liden Films
Distributor: Sentai Filmworks, Section 23
Release Date: Sept. 17, 2019
Format: Blu-ray / 3 Feature Film / 180 minutes
Genre: Car Racing, Coming of Age
Age Rating: TV 14
Overall Personal Rating: B
Synopsis:
Initial D Legend Theatrical Collection contains the following three movies: Awakening, Racer, and Dream of the series directed by Masamitsu Hidaka.
When an unplanned street duel launches tofu delivery driver Takumi Fujiwara into the world of high stakes street racing, the competition isn't going to know what hit them. The son of another legendary driver, the unassuming Takumi quickly becomes the downhill racing phenomenon to beat, with a line of challengers as long as the deadly Mt. Akina road itself! There's no time to blink. No chance to second guess your strategy. The streets of Japan become a deadly arena for an incredible battle where if you have everything under control, you're not moving fast enough! Hold onto your breath as the legendary series that introduced the sport of drift racing to the west is reinvented in a series of new feature films that will strip the surface from the blacktops!
Commentary:
In Initial D Legend 1: Awakening
Initial D is one of those series that has lasted the test of time even though the cars have shown their age there is something very real about teenage boys and cars. That is really the only thing that Initial D Awakening has going for it. I know that if I were still in my 20's or even my 30's I would be all over this film, but I found it rather single minded and lacked a depth that I was hoping for. The fact that the natural racer (Takumi) doesn't really care about racing and is just doing it to get home faster. There is also the connection between Takumi's father and his racing history that is way to easy and somewhat disappointing.
The plot does hold up and Awakening does a great job of setting us up for the second film. The animation is good and the work that went into the races really paid off. There is also an attention to detail on the cars that I found interesting and reassuring. The voice acting was much more typical and fell apart at time and lent itself to the typical American answer of overacting for some of the core characters that tend to add a tension that isn't needed.
Initial D Legend 2: Racer
As with many anime film series there is almost always a letdown as we move through the story. Initial D Legend 2 Racer is just that. While watching it I felt like there was a typical answer to a strong start. Simply put they turn our reluctant hero into the focus of all the racers and give him a tarnish that is not deserved. Now there is a honest push of tension in how all of this plays out, but the writing did fall flat for me.
I did feel like some of the action was solid enough and the racing was given a rather slick production overall. I do feel as though some of the story felt forced and rather uneventful. The overall production values were good, but I can see where the original series emulation was a little to much in the minds of the creators.
Initial D Legend 3: Dream
This last of 3 films does a wonderful job of bring us to the classic series. As with the other two films the story helps us get back up to speed with the essence of the Initial D franchise and introduces us to everyone that matters early on. Bottom line is that it Takumi is forced to understand his talent and discover what makes him really want to do this. On the other hand you have Ryosuke who knows why he does this and why he must be the best. In the end there is the final challenge between pure natural ability and cunning knowledge.
For any guy that is into cars and racing this series of films and the original series would we a great fit. For everyone else that might not be enough to keep them involved.
Overall Grade: B
Initial D Legend Theatrical Collection has everything any Initial D fan will need to make them very happy. It is also a great film for any young man between the age of 15 and 40 who is into cars. This gives a very special depiction of Drifting and what made it so very special in the 80's and 90's.
It is always fun to get a feeling for the beginning of a story line and get a sense of what these beloved characters were all about before the original series began. Initial D Legend Theatrical Collection does several things very well and a few thing not so well. The biggest issue for me is that the film is broken into two films and maybe should have been edited so that it is just one full length film.
If this Initial D Legend Theatrical Collection series was reworked with higher end production and a stronger writing team then it is very possible it would have been a home run. Drift and street racing is not what it used to be and it comes across in the film as more of a historical oddity. It is very possible that it still has a solid following in Japan but here in the States it is dated. The story itself is somewhat of a classic trope that ha a racing theme and it plays out just that way. For all you Initial D fans you will not be disappointed. For all those newbies out there just be warned, it does come across a little worse for the wear.
I thought the animation production values were average at best and that some of the racing scenes tended to over develop the racing, but in series and films like this it really is about the drama and how to show it. I guess that all too often I felt like I was in a Bleach scene where some huge power was being unleaded rather than racing in some road race.
I guess that thing that failed me the most was the overall weakness of some of the main characters. I went away feeling rather cold toward Takumi and somewhat sorry for Ryosuke and maybe just maybe that is what they wanted, but the films are setup to make you want to root for Takumi. I guess I just didn't care enough about him or what he was doing.
I do know that fans of the original Initial D series will love every minute of the films and snap them up like crazy. It is great to see all 3 films released in one set.