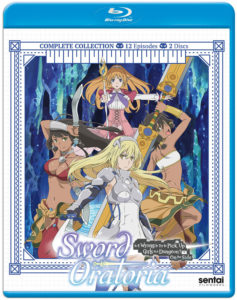 Title: Is It Wrong to Try to Pick Up Girls in a Dungeon?: Sword Oratoria
Director: Yōhei Suzuki
Studio: J. C. Staff
U. S. Distributor: Sentai Filmworks, Section 23
U. S. Release Date: May 29th, 2018
Format: Blu-ray / 12 Episodes / 300 Minutes
Genere: Fantasy, Action, Adventure, Fan Service
Age Rating: TV MA
Overall Personal Rating: B+
Synopsis: 
Contrary to what the adventures of Bell and the Goddess Hestia might imply, not everyone goes into the dungeon of Orario to pick up girls. The veterans of the Goddess Loki's Familia have lots of reasons for risking life and limb facing the monsters and mayhem lurking within the deadly labyrinth's multiple levels, but new member and mage Lefiya just wants to prove that she's worthy to be on the same team as her hero, the famed sword princess Aiz Wallenstein.
As for Aiz herself, she's seeking something that no one else even suspects, and she may find it when trouble comes after her from the previously unreached 59th level! If you thought you knew the Danmachi universe, be prepared to think again as the adventure continues from an all-new point of view!
Commentary:
As much as I liked Is It Wrong To Pick Up A  Girl In A Dungeon, I have to say that Sword Oratoria gave me even more appreciation for the complete series. Knowing that the 12 episodes will not have Bell and his adventures in it I did have moments when I could see the team back fighting together. The Loki Familia is great and all but Bell and Hestia and many of the others do make a difference in the entire mix.
Of all the characters to have focus on, Aiz, is by far the least entertaining one. She might be on the clueless side and have great talent but her flat persona is a lost cause. I also think that having Bell faun all over her is much more entertaining than seeing the girls in the Loki Familia have the hots for her is just sad indeed.
Overall Grade: B+
The action is very good and the pacing of the series is great. We don't get too bogged down and things move along without giving up too much to soon. Is It Wrong to Try to Pick Up Girls in a Dungeon?: Sword Oratoria is solid and very entertaining. I feel as though it is important to provide more character development for many side characters and most series just toss out a bad  OVA to help create some back story. Is It Wrong to Try to Pick Up Girls in a Dungeon?: Sword Oratoria helps us see some of the other characters in a new light. I am contemplating going back and revisiting the original just to see some of these players with a new appreciation.
Is It Wrong to Try to Pick Up Girls in a Dungeon?: Sword Oratoria is worth owning and if you are fan of the original series this is a must. I think it does nothing short of helping the series stay relevant and opens doors for more to come.