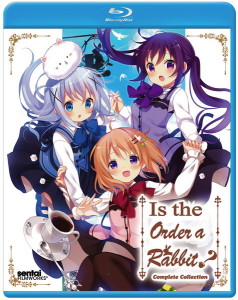 review provided by Andrew & Katie
Title: Is the Order a Rabbit? : The Complete Collection
Director: Hiroyuki Hashimoto
Studio: White Fox
Author: Kazuyuki Fudeyasu
U.S. Distributor: Sentai Filmworks, Section 23
U.S. Release Date: July 14, 2015
Format and Length: Blu-ray / 12 Episodes / 300 Minutes
Genre: Comedy, Slice of Life
Industry Age Rating: 13 and up
Overall Personal Rating: B
Similar Series or Titles to Check Out: Kiniro Mosaic, K-On!, Place to Place, and Non Non Biyori
There is something bunny going on at The Rabbit House…
Synopsis:
Moving to a new town to start high school can be intimidating. That is especially true for Cocoa, who cannot find the place she is supposed to stay at when she arrives in town. So she decides to stop at a café to ask for directions, however they are not needed as she is at the correct spot. The Rabbit House is both a restaurant/café and a boarding house, and Cocoa will be working there along with the owner's granddaughter, Chino, and the strangely military-obsessed Rize. It is a great place to work, business is hopping, and Cocoa fits right in with her new coworkers, as well as the girls from two other rival cafes.
Still, there is something that is just a little odd about the Rabbit House. Rize usually carries a gun and a knife hidden on her and there is also the mystery involving the shop's pet rabbit, Tippy, to just name a few oddities.
Commentary:
Is the Order a Rabbit? : The Complete Collection is simply a light-hearted story of a group of girls living their daily lives and joking around along the way. This series truly belongs in the slice-of-life genre as each episode stands alone and is usually about a day or two in their lives. The comedy is spot on and the voice actors did a wonderful job delivering the one-liners.
The characters really made this series standout because they were so cute that you could not help but fawn and giggle over them. The characters consist of Cocoa, the ditzy protagonist found in almost every slice-of-life series; Chino, an adorable and quiet girl that will melt your heart on more than a few occasions; Sharo, the timid worker of the rival café who also wears a maid uniform on occasion; Chiya, the sole source of reason throughout the story; and Rize, the most interesting girl this world has ever known. There is a bit of character development but not too much as Is the Order a Rabbit? is a slice-of-life series. The characters were drawn to look very similar; however each one still had her own distinct taste, personality, and interaction.
The animation was nothing special but it was well done. The music was beautiful and I really enjoyed it. I really believe that children would love this series if it was dubbed because it is so episodic that they could watch an episode whenever they wanted to and still understand they story. Plus there is not too much fan-service and what there is seems forced at times.
Extras:
Is the Order a Rabbit? : The Complete Collection includes clean opening and closing animations and Sentai Filmworks trailers as special features. Is the Order a Rabbit? : The Complete Collection was released with Japanese with English subtitles as the only language option.
Overall Grade: B
I would love to see this series dubbed as it is a wonderful anime for kids to watch and I believe they are missing the targeted audience by only having it subbed at the current time. Is the Order a Rabbit? : The Complete Collection is an enjoyable slice-of-life anime that will brighten up your day.