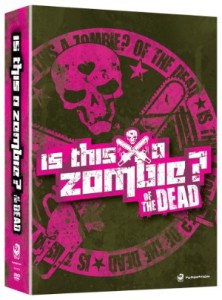 Title: Is This A Zombie?
Director: Takaomi Kanaski
Studio: Studio Deen
U. S. Distributor: FUNimation
U. S. Release Date: Dec. 11th, 2012
Format: DVD / 325 minutes / 13 episodes
Genre: Harem, Comedy, Romance, Fantasy, Supernatural
Age Rating: MA (Mature Audience for Violence and Fan Service)
Overall Personal Rating: B-
Similar Titles: Tenchi Munyo, Ai Yori Aoshi and Ah! My Goddess
Synopsis:
Season Two gets off to a shocking start as Ayumu breaks Haruna's magic chainsaw and accidentally exposes his fondness for pretty pink dresses to the entire school! Next there's an incident with a dreadful dance that turns out to be a curse – and an embarrassing trip to a maid cafe where all the zombie's roommates work! But the shenanigans take a backseat to bigger problems when Ayumu's mysterious drinking buddy turns out to be the most powerful magical girl of them all!
To save his friends and defeat this adorable new menace, zombie boy must do the unthinkable: throw a mixer for his own murderer! With a little help from his loyal harem of vampires, magical girls, and the world's cutest necromancer, Ayumu just might survive to rot another day!
Commentary:
When coming to this second season I was interested to see if they would go further into the back stories of these strange character, but I have to be honest and say that I was disappointed on that front. The other aspect of the series that I looked forward to was the humor and I was not disappointed one this point. The goofy strange humor held this season together. That fact that each one of the lead characters have such strange personalities that the way they work together seems to make it all even more humorous.  I personally like the way that Ayumu moves between being a normal caring person and a rather delusional pervert, but the second season brings out the perversion in several of them. Even though the humor is edgy  it doesn't cross over to the world of vulgar. I found myself laughing out loud enough times to make the pointless plot line worth while.
This simply unique harem anime does much to prove that you take anything and make it a funny series that works even though there is not point to it. In the worlds of harems there are plenty that follow the standard formula and others like Is This A Zombie where the supernatural ends up being the focal point of the comedic relief. It is easy to like this show for  what it is.
Overall Grade: B-
Although the comedy is great the lack of a plot is a real downer. I thought something was happening just for it to be dismissed and piled on top of the rest of the strangeness that rolls through the series. It was fun to have Ayumu end up having a little more fun and the fact that so many of the rest of the player became more animated, but the way the story just flopped around left it in a sorry state. I just wish they given us something more to latch onto so that all the humor had something to make it all even funnier. This is still one to just sit back and enjoy it for what it is.