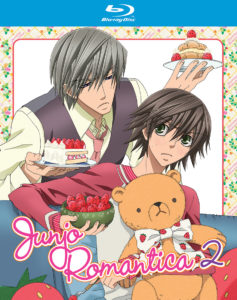 Title:  Junjo Romantica 2 on Blu-ray
Publisher: Nozomi/Lucky Penny
U. S. Release Date: August 1, 2017 (re-release)
Format: Blu-ray /12 episodes / 300 Minutes
Genre: Yaoi Romance
Age Rating: TV MA
Overall Personal Rating: C+
Synopsis:
Juno Romantica 2  stays in the same story line as Season 1. The anime centers around Misaki, currently attending a local college, and the guy he lives with, Usami. They have been together long enough for an established relationship, but Misaki still is uncertain of his feelings and the whole guy-thing expectations. His constant uncertainty and often denial is wearing down his partner.
Now, the family Usami has distanced himself from, has made several appearances and are forcing their way back into his life. The corporate, do everything right, big brother and the controlling, yet getting a bit silly, father are meddling. All of this being new to Misaki as well as his being ever polite, he innocently falls for their manipulation.       Besides the familia stress, Misaki has also been allowed further into Usami's life as a writer and the people that go with it.
With the other side couples, Nowaki and Hiroki struggle with communication and a true connection. Miyagi and Shinobu are in such different places in their lives, the difficulty is in merging the two.
Commentary:
Well, I was disappointed in Season 2 of Junjo Romantica. It felt too much like the same old anxieties of being in a relationship that was part of the set up and relationship building of Season 1. Much of it was uncomfortable for me to watch as the same anxiety cropped up over and over. Connection with Misaki was impossible, his low self esteem and distress becomes overwhelming, really, his face was flushed and sweaty most of the time as a result of the insecure embarrassment and denial.
Being the second season, I wanted the good things about a relationship, not the doubt and miscommunication, you know, the worst parts. The tiny bit of growth in the characters or relationships was not worth watching all the other stuff to get there. I had expected more. Even if a real relationship has to struggle repeatably with insecurities and selfishness, theses aren't the good things that would feel good or be entertaining to watch. Sometimes it was so obvious in the set up and what was next, I did some fast forwarding.
The awkward intrusion of Usami's family was a slight comic relief, but really slight, as it too came across as mostly uncomfortable. And unbelievable too. But, as an fictional romance that's expected, right? Oh, romance needs to be mentioned also, maybe there was a small increase there but sex scenes (never explicit), those really seemed less prevalent in Season 2, so if that's part of what made Junjo Romantica interesting, be prepared.
If you liked Season 1, this would be okay to watch, if you loved Season 1, then I'd still recommend these 12 episode to carry through.
Overall Grade: C+