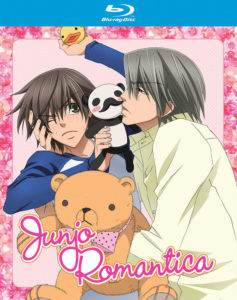 Title:  Junjo Romantica on Blu-ray
Publisher: Nozomi/Lucky Penny
U. S. Release Date: July 11th, 2017 (re-release)
Format: Blu-ray /12 episodes / 300 Minutes
Genre: Yaoi Romance
Age Rating: 17+
Overall Personal Rating: B
Synopsis:
Juno Romantica involves 3 couples who meet and fall in love.
The main story begins with Misaki trying to get into Mitsuhashi University. A old friend of his brother and a successful author, Akihito Usami, begins to tutor him. Immediately, the arrangement has a sexual element when Misaki confronts Akihito about a character in one of the boys love books he has written. Akihito responds with an "I'll show you" attitude.
Soon, when Misaki needs a place to stay, he moves in with Usami. Things evolve and Misaki begins to discover that he had developed feeling for Usami. But he resists Usami and his advances, wondering if their relationship is really okay. He worries a lot about what is going on, how to act and what Usami really expects of him.
The second couple is linked to Usami by his friend Hiroki, who was once in love with him.  He is now a professor at Mitsuhashi University. He is found crying one day by Nowaki who encourages him to join his group at the park. Nowaki pursues Hiroki as a tutor, but really is more interested in being close with him. When communication breaks down during Nowaki's travel abroad, Hiroki tries to accept the situation gracefully, but he feels the loss. Out of the blue, Norwaki returns and shows up at his door.
The third set, starts with Miyagi, an associate of Hiroki's at the college. Recently divorced, he finds it odd that his former wife's brother, Shinobu, returns from Australia in the middle of a trip just to confess his feelings for him. What? To Miyagi this is crazy, and he tries to get rid of Shinobu, even going so far to have a brief interlude with him in an attempt to show him what he claims to want couldn't be real.
Commentary:
Although not that old, Juno Romantica seems to be accepted as a classic, "main stream" boys love romance. Don't let the popularity and the teddy bears fool you, I see it as actual yaoi. Although you don't actually see things directly, there are sex scenes and it is obvious as to what they are doing. Definitely a 17+ series.
Visually, there is some stiffness and akwardness in the scenes, but not enough to ruin the viewing experience. Sometimes, the simplicity of the backgrounds, especially in Usami's apartment, seemed off.  But, I'd like to believe it was symbolic of Usami family life in contrast to his new relationship which is represented/contrasted by his stuffed bear collection. One more comment on the visuals. Some of the guys look way too similar, making for confusion as episodes switch between the couples.
Now, the real star of the series, is how each guy figures out the journey he finds himself on, and what it means for him to be in the relationship. It starts with the pivotal encounters and builds through the pursuit, the resistance, confusion and doubt. In the end, it all is love.
This is my second time watching season 1 of Juno Romantica.  Well, I enjoyed it better the second time around, but there is still a few problems I have with it, and it starts in the first episode. It seems to me, that Usagi as Misaki's tutor and ten years older, pushes him into the relationship. Especially their first encounter in the first episode. But, there is a careful line drawn so that it all fits just to the right side. Misaki is 18, and he makes choices that put him where he was and chooses to stay put, even though he didn't have to be there and could have left with no impact on his life.
There also seems to be an overused theme of:  Character A wants Character B, B resists to varying degrees, but A doesn't give up, after all, he knows B wants it even if he doesn't.  It would have been refreshing to have one guy be thrilled to be noticed by the other.
Overall Grade: B      I'd recomend Juno Romantica to any yaoi fan or someone who is interested in what the genre is about. You get all the basics and the romance without getting too far out there.