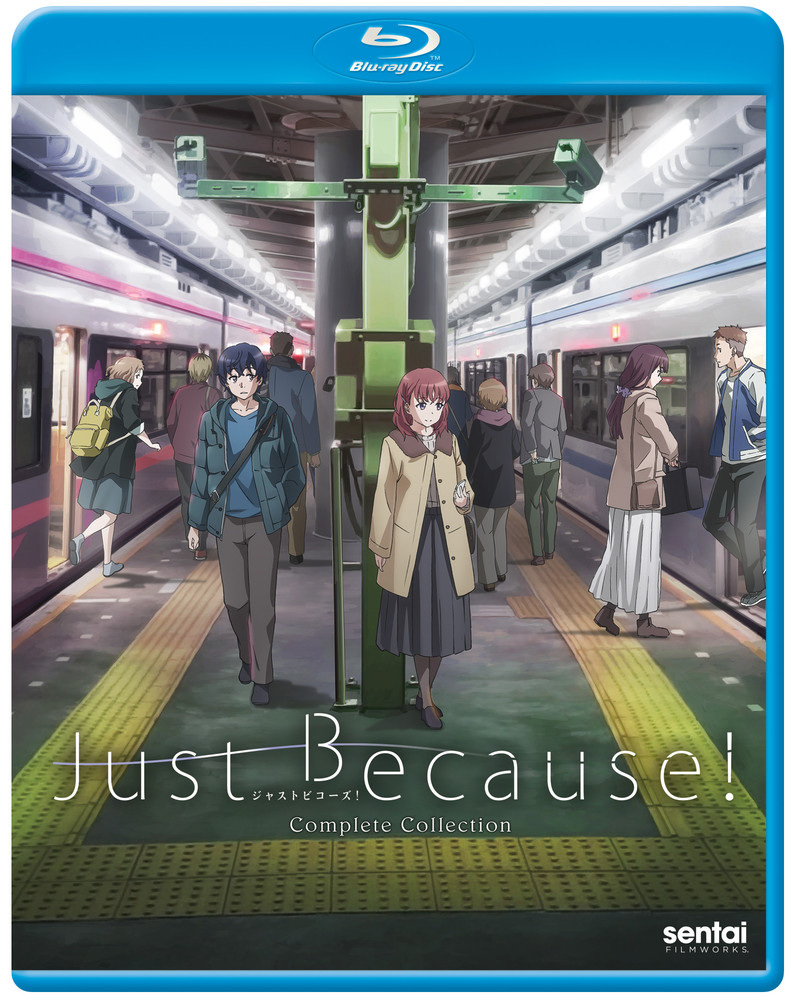 Title: Just Because; Complete Collection

U. S. Publisher: Sentai Filmworks
U. S. Release Date: 2-26-19
Format: Blu-ray / 12 Episodes / 300 Minutes
Director: Atsushi Kobayashi
Genre: Romance Drama
Age Rating: 14+
Overall Personal Rating: A-
Synopsis:
The end of high school is near. The third years are going to be moving on, whether to college or entering into the work force. Most of them are preoccupied with studying for their entrance exams.
If that isn't enough to worry about, Eitu Izumi has just moved back in the area for the final semester. He moved away during middle school and time moved on. With a lack of energy or interest, he visits his new high school, finds out that some of his childhood classmates attend this school. His old friend Haruto Soma is surprised, but they connect quickly over baseball.
Eitu learns his middle school crush, Mio Natsume, also goes there. This is where things lie hidden and complicated. Eitu likes Mio, Mio likes Soma, Soma likes Morikawa, she doesn't seem interested in anyone and finally, Ena Komiya likes Eitu.
The classmates and friends move cautiously as they are about to crash into their adult lives. It is time to savor their youth, and they know they will be losing the life they are comfortable with. They need to say what is in their hearts before the oppertunities are lost. However, with everything about to change, does it really matter.
Commentary:
I enjoyed watching Just Because!. And not just because I happened to watch the Valentine's Day episode on February 14th. It is a high school drama, which most of us have probably seen many over the years, but it didn't feel like an old story. We meet this new group of teens as Eitu moves back to his former town. As he is reacquainted with the people his friends became, we are introduced to the school and students along side him.
It was interesting how Eitu's moving really highlighted the change they all had being going though over the years and that this is the finale of their childhood. It was really pivotal to the telling of their story, the changes of life and who you become as you deal with it all.
Just Because!  does take place in a high school, so there are plenty of common, comfortable elements. Besides the exams, there are the issues of liking someone. What do you do with that? I liked the way the characters could develop different views on love and not be stuck in a childish idealistic view. It was interesting how their personalities contributed to the way they dealt with things, it could be moving on, persistence, or changing the circumstances. Do you speak up, confess, or stay back?
I enjoyed the animation, it looks like rotoscoping was used. The animators paid attention to details, back grounds, keeping the camaera angles interesting an adding in visual interests through out. I think it makes it all more immersive and interesting than live action. You can see things differently. There were several instances where they really made a point to emphasizes the animation, like a tear rolling down Komiya's face, when Eitu was throwing a ball or Soma was swinging a bat. An especially cool moment was when Soma was riding a bike and we see ahead of him from his point of view, the way the shadows change as he passes lights.
Just Because! is both subbed and dubbed. I mostly watch the dubbed, because I prefer it, but then I get used to the charters voices one way, so the Japanese voices seemed like they belong to someone else, but still it was good.
All in all, I liked the characters. The only issue I had there was Eitu's seemingly indifference. His expressions and emotions were too subdued, but oddly enough, I still like his character. There was something deep within him, but his life circumstances seemed to weigh down on him.
The ending was satisfactory. I want to let you know to watch past when the credits start. They still include story content.
Overall Grade: A- If you like Say I Love You or Tamako's Market, I think you will like Just Because!