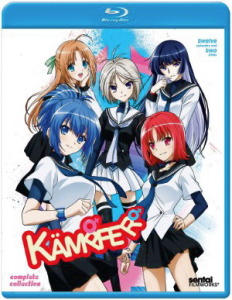 Review provided by Katie and Andrew
Title: Kampfer: The Complete Collection on Blu-ray
Director: Yasuhiro Kuroda
Studio: Nomad
Author: Toshihiko Tsukiji
U.S. Distributor: Sentai Filmworks, Section 23
U.S. Release Date: September 23, 2014
Format and Length: Blu-ray / 12 Episodes + 2 OVA's / 350 Minutes
Genre: Action, Comedy, Ecchi, Romance, School, Super Power
Industry Age Rating: 14 and up
Overall Personal Rating: B
Similar Series or Titles to Check Out: Ikki tousen, IS: Infinite Stratos, and Sekirei
Synopsis:
Waking up transformed into a beautiful girl might be the stuff of some guys' fantasies, but when the suddenly effeminized Natsuru is informed by a stuffed tiger that he is now a Kampfer, a mystical fighter who has to fight other Kampfers in female form, his life becomes a living nightmare. Putting aside the obvious issues of turning into a girl, Natsuru's best childhood friend turns out to swing the other way and she has a crush on his new female body. But that is not complex enough for Natsuru as his school has separate sections for boys and girls, so he and she are now double enrolled. The rumor-mill is running wild saying that he is dating herself. Then there are those other crazy Kampfers who want to take her out. But does that mean on a date or permanently?
Things get even trickier when Natsuru becomes convinced that it would be a good idea to move in with his three Kampfer friends for their "mutual defense." Natsuru must become a full-fledged wonder woman or die trying in this full-contact, no-holds-barred, Amazon action-fest that is Kampfer: The Complete Collection.
Commentary:
Let me start by saying I am somewhat separating this review. Kampfer: The Complete Collection is true to its name as it included both the TV series and the OVAs on this Blu-ray edition. I am extremely happy to see that they grouped them together instead of separating them, not making you have to buy an additional set to finish it off. Good work Sentai Filmworks!
Kampfer: The Complete Collection is a series that packs a lot in. Want action? Fighting? There's some of that. Romance? Yep, got it. Echhi fan service? Why not. Comedy and humor? Boy you want a lot don't ya, but it's in there. A poor high school boy that wakes up one day to find that 'its' not there anymore, replaced by the parts of the other sex, and a disemboweled stuffed animal tiger with an eye patch, is talking to him, telling him he is now a Kampfer? Yep, just what you wanted, right? You ask for a lot. But that's not a problem. You can have all this, and without the need for a shrink afterwards. Awesome! Kampfer: The Complete Collection is that series.
Kampfer: The Complete Collection manages to combine all those attributes and does it successfully. Not overpowering any one aspect, it covers all you could ever want from a series like this, except for being a bit more unique. It does share many of the same themes as other series, with a few exceptions. The male lead is forced to become a female to fight. That's a bit different. Another thing is that though action is considered a main theme, there was some, but never was it a main theme. No crazy multi-episode bouts, with heavy destruction and the elimination of a character. Just kinda fun little skirmishes meant to keep things lively. The other thing that sets it way apart is character development. Most of the time character development will be non-existent in series with similar themes. Kampfer took the time to develop the characters, and give each their own personalities.
Kampfer: The Complete Collection is a very funny anime series to say the least. The humor, though not necessarily blatant, is clouded in heavy innuendo and sexual jokes. They don't say what they mean outright, but anyone with any intelligence will know what they are going for. Not quite over the top but close. Kampfer does primarily focus on echhi and romance, and has a shounen fighting feel to it at times, but that does not last too long, and neither is overpowering one or the other. Though it seems every girl in that school 'prefers the company of other girls', it hardly stops whatever romance they can come up with. There was fan service for those who like it, again not too overpowering or dominating everything else out of the equation.
The two OVA episodes are the continuation of season one of Kampfer and explain what really happened after the final battle of the series. They also added an additional special episode just for the laughs. If you liked the original Kampfer, you will also like this one. There are more girl on girl battles, more guy trying to figure out how to be girl while trying to handle a love, multi pointed two-dimensional object crazier than any triangle, and more all female harems. That and fan-service; must not forget the fan-service. There was a ton of comedy in the two OVA episodes but there was also a ton of fan-service, much more in these two episodes than in the entire TV series in my opinion.
The animation was pretty good and the opening and closing themes were catchy. The voice actors did an amazing job and really brought the characters to life. I really wish that Kampfer: The Complete Collection had wrapped up the series because I hate that I do not know what will happen in the end. The story line was actually interesting and they could have made additional episodes or a movie to wrap everything up. They really had a good concept with the Kampfer's fighting battles on earth that decided the future of far away planets. They could have done so much more but I am hopeful that eventually they wrap up everything and release either more episodes or a movie.
Extras:
Kampfer: The Complete Collection includes the short animation "Amazing Bowel Familiars", clean opening and closing animations, and Sentai Filmworks trailers. This release is only available in Japanese language with English subtitles.
Overall Grade: B
Kampfer: The Complete Collection is a really interesting anime and I recommend it for anyone who is into the fighting ecchi genre of anime.