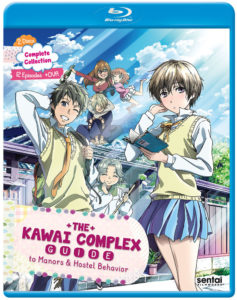 Title: Kawai Complex Guide To Manors & Hostel Behavior: Complete Collection on Blu-ray
Director: Shigeyuki Miya
Anime Writer: Takeshi Konuta
Original Creator: Ruri Miyahara
Studio: Brian's Base
U. S. Distributor: Sentai Film Works, Section 23 Films
U. S. Release Date: December 6th, 2016
Format: DVD / 12 Episodes & OVA / 325 Minutes
Genre: Seinen, Romantic Comedy, Slice of Life
Age Rating: TV 14
Overall Personal Rating: B+
Synopsis:
Some say a home is where your heart is. Others say that a home is where you send people whose brains aren't functioning quite properly. So, when Kazunari Usa's parents send him to the Kawai Boarding House while they work abroad, it may take a while to figure out whether this is really his new home, let alone what kind of home it is.
On the one hand, his new roommate is a pervert and a masochist who peeps at girls' schools, while his new landlady thinks leaving a variety of weapons lying around the girl's area is a proper form of feminine protection. And when it comes to the trouble-making college girl and the perpetually grumpy working woman… well, let's just say that those two have some serious issues to work out. On the other hand, Kawai is also home to Ritsu Kawai, who stole Usa's heart from the first second he saw her on his first day at his new high school. And that alone may just make living in this strange new house worth it!
Commentary:
Kawai Complex Guide To Manors & Hostel Behavior is a simple straight forward coming of age high school romantic comedy. The comedy aspect is what is front and center with this silly story. The love story is between two rather shy kids who for their own reasons aren't able to show their true feelings, but as the series progresses things are clear that they are headed to a similar place. The strength is based on the comic relief and the other main characters who give us the extraverted side of the tale. From the very beginning the humor is pushing some boundaries with several of the characters, but they hold the situation back just enough to keep things on a relative level playing field. It would have been very easy for the writers to go too far with the perversion that a couple of the characters clearly would like to exhibit.
The other strength happens to be the animation and much of the background and the use of highlights and polished surfaces. With in the first few minutes I was reminded of the work of Mikoto Shinkia. The work my not reach that high of a quality, but it clearly show how the rest of the anime world has watched and learned the power of reflection and highlights. I found the school hallways and classrooms to exhibit much of the slick styling and one you get to the Kawai Complex there is a great deal of time spent on the polished floor and the rich look it provides. There was even an obligatory  railroad crossing scene early one that cemented some of the reference to Shinkai.
Overall Grade: B+
Kawai Complex Guide To Manors & Hostel Behavior is a silly and light comedy that gives us all hope that two rather shy sweet kids can connect even in a world of absurdity swirling around them. Innocence still has its place in todays world and thanks to show like this it is honored and showcased. I would recommend this for the younger crowed but can't because of the perverted humor that is found in every episode. It is a good story for those 13, 14 and 15 year old girls who want to watch a silly show about a shy bookworm and a sweet nice guy. But, I am sure that the majority of the fan base will be 20 something guys who like slick production and plenty of silly humor and cute gils.
I really did enjoy Kawai Complex Guide To Manors & Hostel Behavior even if it did come cross a little heavy handed form time to time. The animation is stellar for a 13 episode series and the writing kept pace and the story was able to survive under its own weight. So, if you are looking for something that will make you laugh and feel just a little better at the end of the then you should check out Kawai Complex Guide To Manors & Hostel Behavior.