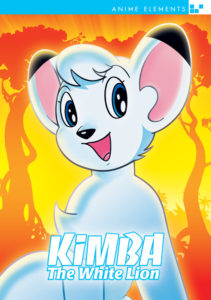 Title: Kimba the White Lion (Anime Elements edition)
U. S. (Re) release date: November 1, 2016
Format: Blu-ray or DVD/ 52 Episodes/ 1145 Minutes
English Dub
Genre: Youth, Action, Comedy
Age Rating: All Ages
Overall Personal Rating: B
Synopsis:
A young lion cub escapes from hunters, to find himself alone and orphaned. He spends time with some humans who help him. He learns to appreciate their culture and speak the language. He sets out to make his way in the jungle. A natural leader, he begins to gather friends and rallies the other animals to help protect themselves from  the dangers in the jungle, especially the hunters. Kimba believes that peace will only be maintained if the animals and people learn to communicate and respect each other but he won't back down from a fight. Along the way, Kimba searches for his past and learns to gain strength from his ancestors.
Commentary:
Kimba the White Lion is a classic of anime originally aired in the 1960's, a comedy/drama series meant for children. I don't intend that it should be put into the same grouping as an American cartoons. It isn't what we are used to. The characters don't seem so far off, but it is the story telling and some of the situational elements that make it different. It's been noted that a similarity exists between Kimba the White Lion and the American The Lion King, and I can see those points, but this story has the time to go in depth (it is 52 episodes) as to the meaning of community, our place int the world and even an early form of conservation.
Who do I recommend Kimba the White Lion for? As a classic, any anime fan should catch a few episode to see part of the development of the art form and story telling. It was created by one of the early stars of anime/manga, Osamu Tezuka, who also created Astro Boy among others. really, I think it has little to hold an adult's attention, it is definitely a kid's show. (Wonderfully, this is an English dub, the kid's anime I've seen so far hasn't been, which doesn't make sense for the American market.) Another reason to watch, is the Kimba versus Simba. It's fun to see how you will think about the similarities. I don't know if one influenced the other, but as you watch, remember Kimba predates by decades.
Visually it has some of the characteristics we know and appreciate from the contemporary anime of today. It has the bright colors and big eyes with the enthusiastic lead character.  There is quite a bit that does make it dated, but that doesn't necessarily mean that they are bad things. It is a representation of the times. The art style isn't what we are used to now, but familiar at the time, even in America. The sound effects also come across as dated, as to what I mean, think "pow" and "boing" of the original Batman TV series.
Overall Personal Rating: B   As a viewer of modern anime, I wonder if Kimba can find much of an audience, but I hope everyone at least gives it a try for the sake of  it's 50 year history.