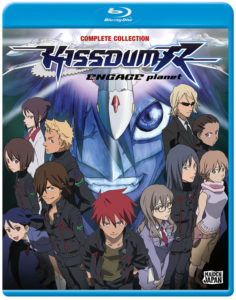 Title: KISSDUM-R Engage Planet on Blu-ray
Director: Yasuchika Nagaoka and Eiichi Satō
Writer: Yasuchika Nagaoka
Studio: Satelight
U. S. Distributor: Maiden Japan
U. S. Release Date: Jan. 2nd, 2018
Format: Blu-ray / 25 Episodes plus 4 OVA / 650 Minutes
Genre: Sci Fi, Mecha, Action/Adventure and Fantasy
Age Rating: TV 14
Overall Personal Rating: B+
Synopsis:
KISSDUM-R Engage Planet the Complete Collection contains episodes 1-25 and OVA's 1-4.
The destruction of a cruise ship leaves thousands dead, but the body count is only beginning. As researchers try to make sense of the strange new fish and insects appearing around the world, scientist Rurika Yuno and the N.I.D.F. attempt to track down the source of the mutation, a mysterious artifact called the Book of The Dead. When the Book is finally located, all Hell breaks loose. Literally. As swarms of hellspawned fireflies and giant unearthly creatures attack mercilessly across the planet, Rurika is forced to use the Book to resurrect her dead lover, fighter pilot Aiba Shu. But can even humanity's last desperate line of defense – the Necrodiver – defeat an ancient evil whose only goal is to exterminate all mankind? The final war has begun!
Special Features: Japanese Commercials & Promos, Clean Opening Animation, and Clean Closing Animation.
Commentary:
Okay, Kissdum-R Engaged Planet is something of a real mystery for me. From the opening episode I was intrigued and began to get into many of the characters. A few episodes later I was a broken man and not sure what direction the series was going. As I stuck to the series I found myself hitting his and lows every few episodes. I just felt like I wasn't sure about getting connected to any of the secondary characters. Shu Aiba was the only one that I could latch onto and begin to bond with his character. I did appreciate that he didn't fall into the stereotypical male protagonist who wined more than anyone else. Shu was solid and followed through with what he needed to do and I appreciated it very much. Although, his character was a little one sided and felt like a simple shonen hero.
It did take a long time for the series to settle in and start making some progress with the plot line and as it began to solidify I began to warn to the simple nature of the story and action. I began to feel like it was one of those average series that just wanted to give you some action on a weekly basis and there is nothing wrong with that.
Overall Grade: B+
Kiss dun-R Engaged Planted falls under one of the many overlooked shonen series that take a simple story and manages to throw several curves at you right away but eventually settles into a rhythm that makes total sense. I found the animation to be slightly above average and much of the writing to hit the mark. I was somewhat confused in the first 6 to seven episodes as the overall cast changed so much, but one I got into the middle of the series I understood why things had to be that way.
My one disappointment was that Kissdum-R Engaged Planet fell into the battle of the week series and tended to forget the post and series progressing in the middle episodes which I found to be reassuring and somewhat of a letdown but not an overwhelming disappointment.
When it comes to new releases I honestly think that Kissdum-R Engaged Planet will be overlooked and it really shouldn't be. It has every right to stand next to many of the big budget, heavly marketed series that are coming out.
So, if you are looking for a interesting action adventure series that mixes it up on you right off the bat then you should check out Kissdum-R Engaged Planet.