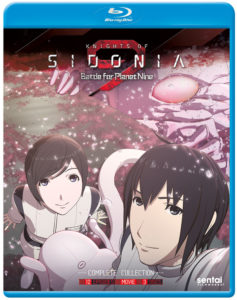 Title: Knights of Sidonia: Battle for Planet Nine
Director: Kobun Shizuno
Creator: Tsutomu Nihei
Studio: Polygon Pictures
U. S. Distributor: Sentai Filmworks, Section 23
U. S. Release Date: November 29th, 2016
Format: Blu-ray / 12 Episodes & Feature Film/ 442 Minutes
Genre: Sci Fi, Mecha, Drama, Action, Seinen
Age Rating: TV MA
Overall Personal Rating: A-
Synopsis:
Knights of Sidonia Battle for Planet Nine (Daikyuu Wakusei Seneki) contains episodes 1-12 of the second season of Knights of Sidonia plus a movie, a chipboard box, art cards, and a poster.
Discovering the nature of one's individual identity is a question every sentient being confronts. Do you only count if you're entirely human? What does it mean to be a person?
In a war with the alien Gauna, capable of absorbing and re-purposing human DNA, these are no longer abstract questions In these uncertain conditions, pilot Nagate Tanikaze finds himself developing an obsession with the Gauna clone of his deceased beloved, Hoshijiro.
Meanwhile, his close friend, Izana, a manufactured non-binary human, goes through an alarming change as their feelings for Nagate grow. Existential and romantic problems will have to wait though, as the Guana step up their attacks and a virtual coup d'état threatens to throw Sidonia's leadership into chaos, while even darker forces stir within.
The very definition of what it means to be human is about to be questioned as the battle to survive continues in KNIGHTS OF SIDONIA SEASON 2: BATTLE FOR PLANET NINE!
Commentary:
Being a major fan of Knights of Sidonia I was thrilled to see the second season finally release. I have heard plenty of disappointment regarding the heavy Computer Graphics use, but I'm not too sure it doesn't end up adding to the overall feel of the animation. Add Nihei's gritty imagery to the hard edge of CG and you end up with a true dystopian future that has a look of tired worn-out existence.
The plot continues with mush intrigue and mystery as to what is going on. We are introduced to plenty of new strange aspects to the story and of course there is  Tanikaze who manages to provide plenty of wonder as to what he really is.
Overall Grade: A-
If my only grade for Knights of Sidonia was based on the story it would be an A, but because there is simple failure to wrap the series up I ended up feeling left with a great start and no finish.
The animation may put some people off and in some ways it does get a little tiresome. I still think the hard CG helps create that aged future where humanity is at it's final battle. Now if we can just see that battle and discover what the outcome will be.
I know that Netflix has had plenty of opportunity to show this series and that a lot of people may not like the English dub, I feel as though it should be a top pick of those mecha lovers who are looking for something more original than Gundam or EVA. Of course, there are plenty of Mecha series out there and it should be noted that Knights of Sidonia is not finished. You should give it a try and if you haven't seen season one you should watch the movie before you watch Battle for Planet Nine.