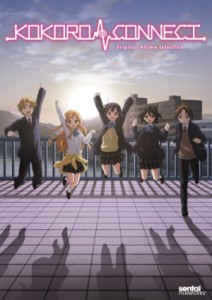 Kokoro Connect OVA DVD Collection
Director: Shinya Kawamo
Studio: Silver Link
U. S. Distributor: Sentai Filmworks / Section 23
U. S. Release Date: Dec. 10th, 2013
Format: DVD / 4 Episodes / 100 Minutes
Genre: Supernatural, Coming of Age, Romance, Drama, Seinen
Age Rating: TV 14
Overall Grade: A
Synopsis:
They've already had their bodies swapped like musical chairs, had their ages changed at random, and experienced their deepest desires taking control of them without warning, but if you thought Heartseed was finished with Taichi, Iori, Himeko, Yoshifumi and Yui, you've got another think coming! Now there's a new affliction going around, and the name of this peculiar bug is emotion sickness. As in, suddenly your emotions jump out of your body and sic someone else!
Needless to say, that's more than simply awkward if you've got a deep-rooted phobia like a fear of men or repressed emotions that you've been trying to keep hidden, but in some situations it can literally be deadly! What is Heartseed up to this time, and why is he making our heroes involuntarily share their innermost dirty laundry?
Commentary:
Finally a series that left us in the lurch has come back and closed the door. Just as the series deals with these personalities the OVAs do the same. In fact I see these as just an extenuation of series rather than a OVA collection. In many ways it is too bad that these episodes were not included in with the original episodes. These OVAs/episodes are a smooth tradition from one ending to a finally. Of course there needs to be one more trial placed on them by Heartseed and this time he or it hits the mark.
Kokoro Connect is one of those series that manages to explore relationships in a personal way that is on one hand very poignant and at moments very uncomfortable. I think that may be the brilliance of the series itself. The ability to push the boundaries of who we are and at the same time make some of our more personal secrets feel very natural for everyone who spends time with others.
Overall Grade: A
Kokoro Connect has found it's way into a top pick of mine for the 2013 U. S. releases and with the addition of these 4 episodes / OVAs it is clear that it is now more than deserving of that list. I loved the way the series explores relationships without turning it into a silly redundant body swapping series. With the added emotion swapping that goes on in these OVAs it gives us another level of complexity and asked the question "how do we hide our feelings from our friends"? Funny thing is that we have all gone through this but not at this level of stress. The way that it is approached is both interesting and painful, but at all times it still keeps us grounded in both the characters humanity and the humanity of the viewers. There are plenty of other series that explore relationships such as Anohana or even Clannad, but Kokoro Connect does something that even they don't do and that is touch a nerve that is so universal and at the same time so personal that they almost never come up and are almost never discussed among friends. To place young coming of age kids in the position of having to experience what others feel and all the while be bonded together through both friendship and the fact that they are all placed in this position without their consent. These simple factors make the series powerful for what it is and with the added awkwardness of those highly personal secrets rolling out from time to time makes Kokoro Connect something very special.
If you are looking for a series that makes you look at yourself and your friends in a new light then Kokoro Connect should be high on the list.