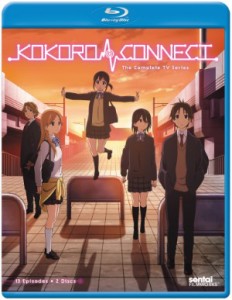 Title: Kokoro Connect The Complete TV Series
Director: Shinya Kawamo
Studio: Silver Link
U. S. Distributor: Sentai Filmworks / Section 23
U. S. Release Date: Oct. 22nd, 2013
Format: Blu-ray / 13 Episodes / 325 Minutes
Genre: Supernatural, Coming of Age, Romance, Drama, Seinen
Age Rating: TV 14
Overall Grade: A
Synopsis:
The five members of the Cultural Study group that meets in class 401 have spent a lot of time wondering what it would be like to be in someone else's shoes. But they're about to learn that there's a huge difference between thinking about it and literally BEING in someone else's shoes! That's exactly what happens when, suddenly and inexplicably, they each find themselves inside the body of the girl – or boy – next door!
What happens next? Well, besides bringing a whole new meaning to the term "exchange student" and the to-be-expected freaked-out runs to the bathroom, it's not hard to do the math: take one wrestling geek, the resident cool girl, the class clown, the popular chick and one sultry maid of mystery, scramble thoroughly and divide, and you can bet that pretty soon they'll be answering ALL of the questions they never wanted to know about the opposite sex in ways they never anticipated!
Commentary:
I always cringe a little when I hear that a show is about people swapping bodies. Kokoro Connect only made me cringe because it is so good and how it manages to hit some genuine nerves with respect to the human condition. I have not felt this strong about a series since AnoHana made to our market. Kokoro Connect goes straight for that dynamic of exploring our relationships and our own frailties.
The animation style reminds me of the simplistic intimacy the K-ON! delivers or many of the other straight forward slice of life series. The one major difference is the solid development of the characters and the superb writing that brings the series to life. Each one of these students have a plenty of experiences that have helped form who they are, but they are just discovering the people they have become and how to move forward. Each are full and rich with plenty to say and it is very easy to become sympathetic toward them and their world.
The one thing that hit me the hardest was the honesty that came from the writing and exposed itself through these characters. This is where it made me cringe because of the way that they allow these characters to expose themselves and the things that they confess. There are things said that I can honestly say I would never expect to hear from anyone, but seeing it in this format makes those comments seem even more honest and revealing.
Overall Grade: A
Kokoro Connect is not for everyone and because of some of the conversations that happen I would say that it should really be rated 16 +. That doesn't take away from the quality of the series and in fact adds to its overall attractiveness. Don't expect this to be a sexy romp through adolescence, but rather a honest view of humans at this age and the things that make us who we are. There is one area that the Japanese are great at and they are coming of age stories that tug at our heart strings and Kokoro Connect hits a home run and just made it on to my to ten of 2013 releases. Be sure to check this one out.
Similar Anime:
AnoHana: The Flower We Saw That Day, K-ON! , Tari Tari and Hanasaku Iroha are all in line with Kokoro Connect. AnoHana does explore the aspects of relationships and the dark secrets that we all hold back from each other. K-On!, Hanasaku Iroha and Tari Tari follow a much simpler format of exploration of coming of age but they still deal directly with how we discover how to maintain relationships with those close to us as we age and life becomes more complicated. There are plenty of other series that take on relationships and if you want to feel something other than just a punch of adrenaline then you should be sure to pick one of these series up.