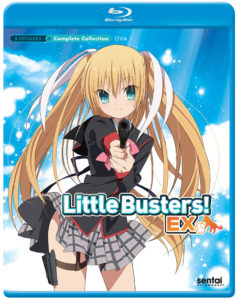 review provided by Andrew and Katie
Title: Little Busters! EX: Complete OVA Collection
Director: Yoshiki Yamakawa
Studio: J.C. Staff
U.S. Distributor: Sentai Filmworks, Section 23
U.S. Release Date: December 6, 2016
Format and Length: Blu-ray / 8 Episodes / 200 Minutes
Genre: School Life, Slice of Life, Supernatural, Comedy, Drama, Romance
Industry Age Rating: 14 and up
Overall Personal Rating: B-
Similar Series or Titles to Check Out: Little Busters, Little Busters: Refrain
Synopsis:
Does the new girl in Riki Naoe's life need his help, or is she actually trying to kill him? After a chance encounter on a rooftop brings the enigmatic Saya Tokido into the Little Busters' world, the only thing that's certain is that trouble is sure to follow.
As if saving the lives of his teammates wasn't enough of a task to handle, now Riki must also untangle a web of new mysteries that seem to be rooted in his own personal past! Who are the Dark Executives, why do they want to keep Saya and Riki apart, and what is the nature of the secret treasure that Saya seeks? Sometimes, answers lead to even more questions as Riki and the Little Busters discover that they weren't the only people drawn into Kyousuke's artificial world in Little Busters! EX!
Commentary:
Little Busters! EX: Complete OVA Collection in the three-arc OVA series that follows Little Busters!: Refrain. However, it seems that Little Busters! EX: Complete OVA Collection takes place in an alternate world or universe and the characters know about it. Two of the arcs, the Kanata and the Sasami arc make the most sense and fit in with the rest of the series. Saya's arc made the least sense of all because she only exists in the alternate world and the four episode arc is the only time she is in the entire series. Her arc was also the weakest in that it ends with no resolution while the other two arcs have some kind of resolution even though they are shorter in length.
There was a decent amount of character development in Little Busters! EX: Complete OVA Collection. Saya was an interesting character to say the least.  Apparently she and Riki met each other when they were children and that causes her to fall in love with him. She is also your run-of-the-mill tsundere that appears in every harem amine series. Sasami and Kanata are a bit more realistic but I can name other series where I have seen the cold/mysterious personalities. They are both every stand-offish and keep to themselves. However, both girls did grow as characters over their separate two episode arcs and eventually learned to trust and fall in love.
The animation was very pretty and the backgrounds did not take away from the characters. The voice actors did a good job of bringing the characters to life. The opening and closing songs were catchy and were fun to listen to. All in all, Little Busters! EX: Complete OVA Collection was an interesting addition to the entire series.
Extras:
Little Busters! EX: Complete OVA Collection includes clean opening and closing animations and Sentai Filmworks trailers as special features. This series was released with both English and Japanese with English subtitles as language options.
Overall Grade: B-
Little Busters! EX: Complete OVA Collection is an interesting addition to the Little Busters! series. I recommend this release to anyone who has seen the rest of the series.