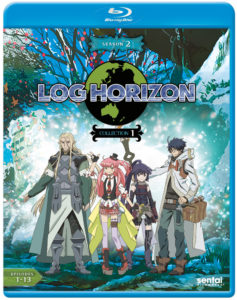 Title: Log Horizon Season 2 Collection 1 (on Blu-ray)
Director: Shinji Ishihara
Author: Toshizo Nemoto
Studio: Studio Deen
U. S. Distributor: Sentai Filmworks, Section 23
U. S. Release Date: May 31st, 2016
Format: Blu-ray / 325 Minutes / 13 Episode
Genre: Sci Fi, Fantasy, Adventure
Age Rating: TV 14
Overall Personal Rating: A
Synopsis:
It's been six months since the event that trapped thousands of players in the online game world of Elder Tales and the situation is far from secure. The People of the Land are engaged in open warfare against the Goblin armies of Zantleaf. Minami spies are infiltrating the populace. And even with the support and guidance of the Round Table Alliance, the cost of sustaining the city of Akihabara is causing the entire infrastructure to teeter on the brink of collapse. With winter coming, Shiroe and his companions are forced to consider their options. Should they stay in Akihabara and attempt to weather the oncoming storm? Or should they gamble on missions to other portions of the world in search of new sources of valuable treasure? The launch of another series of raids will test old alliances while new ones are forged, as the adventure continues in the second season of LOG HORIZON!
Commentary:
Over the last few months I have heard more and more people talking about Log Horizon. That is a great thing because the things I am hearing is what I have already said in the past and that is the fact that Log Horizon is one of the best anime to examine what would need to happen if you and others were trapped in a game. Although Sword Art Online is entertaining and very pretty it doesn't come close to Log Horizon in story and plot driven writing.
The second season of Log Horizon brings with it new challenges and rewards and these first 13 episodes manage to setup a complicated plot line that is both mysterious and deeply intriguing. I thought that wrapping up one large quest and opening the door to a even bigger threat in this first collection is a great way to keep us coming back for more.
Overall Grade: A
Wow, in reality I wasn't sure if this series could get any better and with the coming of the second season I was proven wrong. The action and complex strategy that is taking place is farm more than I could imagine. The flash backs to their real lives when dead was brilliant and it gave a solid grounding into who these people really are. There was no holding back when the reality was approached and also added meaning to who they had become in the game. It is a solid reminder of our own failures as a society to truly accept and include all people rather than ridicule and shun people for their introverted personalities and awkward social skills. Owning an anime store I meet people like this on a daily basis and make it point to let them know that they are welcome in my store and many of them have become friends over the years and my little store has become a safe haven for them to actually have a social life that is off line.
Getting off my soap box and back to Log Horizon. There is some thing else that made this collection step up to a solid A rating and that was the way it rolled out the plot. There was a steady pacing and flow of the story line that made it easy to watch and to walk away from each episode feeling as though you were provided something important. It also ended with a great cliff hanger that setup the the second half of the season.
If , for any reason you reading this and not familiar with Log Horizon then you really need to start from the beginning and get caught up. You will be very pleased that you dove in.