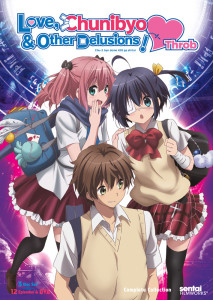 review provided by Katie and Andrew
Title: Love, Chunibyo & Other Delusions: Heart Throb The Complete Collection
Director: Tatsuya Ishihara
Studio: Kyoto Animation
Author: Jukki Hanada
U.S. Distributor: Sentai Filmworks, Section 23
U.S. Release Date: August 25, 2015
Format and Length: DVD / 12 Episodes / 300 Minutes
Genre: Comedy, Drama, Romance, School, Slice of Life
Industry Age Rating: 14 and up
Overall Personal Rating: B-
Similar Series or Titles to Check Out: Love, Chunibyo & Other Delusions!
Synopsis:
Yuta Togashi thought he had problems dealing with one delusional girlfriend in the person of Rikka Takanashi, but now things are about to go totally insane as his former "one true soul mate" from when he was a chuni himself returns with a vengeance! How bad could Satone Shichimiya's re-entry into Yuta's chuni-verse likely to be? Let's just say that she's so epically off the deep end of the chuni-scale that she prefers to use the name Sophia Ring SP Saturn VII and that she'll joyfully tear Yuta's real world to pieces in order to get him back in her imaginary one!
Some girls just want to have fun and some want to break down the walls between their boyfriends and themselves. But when a girl's idea of fun is breaking down the wall between their presumed boyfriend and reality, retreating into a fantasy world might just be Yuta's best option. Especially since Satone knows where ALL the skeletons from his past are buried. Toss Rikka's equally delusional friend Sanae into the mix and girl-crazy begins to take on a whole new meaning!
Commentary:
I really liked the first season and I was quite happy when Love, Chunibyo & Other Delusions: Heart Throb was released but now I wish I would not have been so excited because I believe I had too high expectations for this season. The storyline was not as deep nor complex as Love, Chunibyo & Other Delusions but it was still cute and funny. I really wish they would have progressed the romance between Yuta and Rikka in Love, Chunibyo & Other Delusions: Heart Throb as I was looking forward to it after watching the first season. But instead, Yuta and Rikka are awkward and shy around each other even though they have been "dating" for six months. This is a slice-of-life series that is mainly episodic but some episodes to flow into the next one.
There was also a new character introduced, Satone Shichimiya. She is a childhood friend of Yuta and she takes chunibyo to a whole new level. She adds a large amount of drama between Yuta and Rikka that really was not necessary. Plus, she is kinda in love with Rikka and that makes Rikka jealous. But I think that would make anyone jealous. I really wish they would have given Nibutani some more attention but instead she was relegated to the background during the important scenes as a sort of cheerleader who pushes Yuta and Rikka forward because they are too childish to take that step themselves.
The animation was pretty and vivid. The colors jumped off the screen and the characters and backgrounds were well drawn. The music was catchy and enjoyable. I found myself humming along after a few episodes. The voice actors did a good job bringing the characters to life and made the series enjoyable.
Extras:
Love, Chunibyo & Other Delusions: Heart Throb The Complete Collection includes clean opening and closing animations and Sentai Filmworks trailers as special features. This series was released with both English and Japanese with English subtitles as language options. Both are well done and enjoyable.
Overall Grade: B-
While Love, Chunibyo & Other Delusions: Heart Throb has some issues, it was still interesting to watch and it had some cute moments. I recommend this series if you have seen the first season and want to see what happens next.