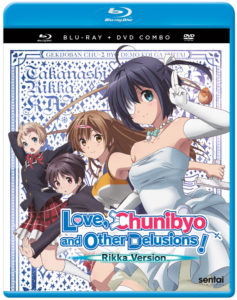 review provided by Andrew and Katie
Title: Love, Chunibyo & Other Delusions Rikka Version on Blu-ray/DVD
Director: Tatsuya Ishihara
Studio: Kyoto Animation
Author: Jukki Hanada
U.S. Distributor: Sentai Filmworks / Section 23
U.S. Release Date: October 17, 2017
Format and Length: Blu-ray/DVD Combo Pac / Movie / 96 Minutes
Genre: Comedy, Drama, Romance, School Life
Industry Age Rating: 14 and up
Overall Personal Rating: B
Similar Series or Titles to Check Out: Love, Chunibyo & Other Delusions and Love, Chunibyo & Other Delusions Heart Throb
REALITY, BE RENT! SYNAPSE, BREAK! VANISHMENT, THIS, WORLD!!!
Synopsis:
In Love, Chunibyo & Other Delusions Rikka Version, it's just so not fair! Sure, Rikka may be a "chunibyo" afflicted with a state where she's convinced that she has hidden powers. Maybe she DOES think she has an evil eye that always has to be covered with a patch. But that does not mean that what she believes is not real to her, and Rikka knows in her twisted little heart that Yuta Togashi is much more than just another boy. So why is he always pulling away? At long last, here is the chance to see the world through Rikka's eyes (or eye, technically, since the evil one is usually covered). Armed with your trusted parasol, you will deal with evil high priestess sisters, enchanted animals, and the scariest thing of all, going literally boy crazy!
Commentary:
Basically, Love, Chunibyo & Other Delusions Rikka Version is cut scenes from season one of the series in Rikka's perspective. There is an awesome dream sequence in the beginning that I really hope they revisit in the next movie that is due out. I am having trouble seeing this as a movie as the only thing added was that dream sequence and I was quite disappointed when it was found to be a dream. They did pick good scenes from the first season and it did make me remember the first season better.
Every character is likable, well developed, and brings something to the story. Yuta, the former chunibyo, looking to get away from it and to being a normal teenager. Rikka, a fully fledged chunibyo, follower of the Wicked Lord Shingan. Dekomori, the pig tailed middle school student, servant to Rikka, and wielder of the Mjolnir Hammer. Nibutani, the seemingly popular girl, cheer leader, class president, and general fantasy of all the guys, that seems to be the oddball-out in this group. And Kumin, who just wants a club she can nap in. They all bring a high level of moe, and you will quickly fall in love with them all. Watch as imaginary fights come to life, with overactive imaginations of the chunibyo. Plus you get a taste of the fascinating martial art of cooking utensils. If that's not enough for you, enter the comedy. Well thought out Yonkoma style gags, mocking of cultural clichés and overall random insanity assist the whole thing along. Need some drama? Well aren't you demanding… Well guess what, it has that too. There is a lot of love in this story too, so you know. How can all this work together? They did a great job of combining it all together, and giving it a balance of reality, and the fantasy of escaping reality. They also included some cultural clichés than have transcended Japan, like capcom code, role playing, slapstick comedy, and issues more serious in nature like dealing with loss and the pains of growing up. Some of us may not understand that last one, since we never actually grew up, but that is a story for another day.
The animation was well done and the voice actors did a great job bringing the characters to life. The music was catching and the opening and closing was interesting. All-in-all, Love, Chunibyo & Other Delusions Rikka Version is a wonderful re-cap of the first season but I was wishing for something more.
Extras:
Love, Chunibyo & Other Delusions Rikka Version includes clean opening and closing animations, My Brother 2 short, and Sentai Filmworks trailers as special features. This movie was released with both English and Japanese with English subtitles as language options. However, the My Brother 2 short is only in Japanese with English subtitles.
Overall Grade: B