Title: Love Live! School Idol Project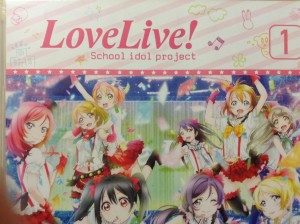 Publisher: NIS America
Format: Blu-ray English language sub and/or dub, 2 disc, 13 episodes
U. S. Release Date: February 14, 2016
Genre: Comedy
Age Rating: 13+
Overall Personal Rating: A-
Synopsis:
Otonokizaka Academy is a small high school for girls. Enrollment has been dropping for years. Finally the school directors decide it is time to close the school. They will not have a freshman class next year but allow the current students to finish until graduation. This makes some of the students very unhappy.  Honoka's grandmother and mother went to that school and it breaks her heart to think of the school closing. She sees that other schools seem so vibrant and attract new students because they have school idol singing groups. So, why not them?
She begins a group with a few of her friends.  It isn't just singing they need to do. Having to work within the school's authority, they have to form a club, find a place to practice, design costumes, get in shape, create songs and dances. They also need to find an audience and ways to get their act to be noticed. Along the way, they gather more members to join in their mission to save the school.
Commentary:
Love Live! is an anime comedy with a mission. The girls always have a goal they are working towards. Let me tell you, they don't always achieve what they aim to. I think this was a positive for the series. It wasn't all "Hey, let's be enthusiastic and win at everything." It keeps it all fresh because we can't predict what will happen.
This anime is about connection and friendships. All the girls came to the group by different places in their lives, with a variety of reasons. As they were gathered into the group, their different talents all melded together. Not everyone was perfect, their is some attitude and self serving motives, but by working together towards a goal, they not only made friends, but learned about themselves. This lead to character growth which really is important to me.
Visually, I like the look of this anime. It is has the bright saturated colors and cute, but not chibi, style.  I also like the details in the back ground. There is a lot going on that really sets the stage for the drama. There is sort of a upgraded realism. For example, the cherry blossoms were falling for a longer time than probably possible, but for setting the mood, it was awesome.
This is a music themed story, and I think the stage performances were great. The music is the peppy pop that idols are known for, sung in a mix of cute to squeaky voices. The songs are sung in Japanese, which I glad they kept. J-pop translated in English never retains the energy and feel of the original.
I think a wide variety of people could enjoy this. I have already met both male and female viewers who enjoy the series. This is for the anime fan who likes comedy, or J-pop, or uplifting stories.
Overall Grade: A-  A cute anime with lots of heart and shojo enthusiasm to bring you a smile.
If you like Love Live!, I think Tamako's Market or K-ON  would be ones to int rest you.