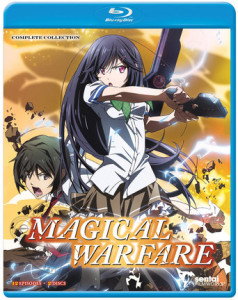 Title: Magical Warfare Complete Collection
Director: Yuzo Sato
Writer: Kazuyuki Fudeyasu
Studio: Madhouse
U. S. Distributor: Sentai Filmworks, Section 23
U. S. Release Date: June 30th, 2015
Format: Blu-ray / 300 Minutes / 12 Epsisodes
Genre: Supernatural, Magical World, Action, Adventure, Romance
Age Rating: TV 14
Overall Personal Grade: C
Synopsis:
The last few years haven't been easy for Takeshi Nanase. His parents are distant, his little brother despises him since "the accident," and his relationship with his girl friend isn't exactly romantic. Even one of the few high points in his existence, studying the Japanese swordfighting technique of Kendo, seems to be a dead end.
He's got a definite knack for it, but it's not something that's likely to have any practical application in a future career – or so he thinks until he runs into an unconscious girl in an unknown uniform and suddenly has his world turned upside-down. In short order, he's being held at (magical) gunpoint, rescuing damsels in distress, and finding himself facing off with a group of magic users!
But as shocking as finding his life in danger and learning that magic is real may be, what's even more stunning is the revelation that Takeshi's been changed into a magician himself! So maybe those sword lessons aren't going to end up being so irrelevant after all!
Commentary:
Here's a new concept, highs school students given magical power to fight evil. The problem is that they end up not doing much fighting and not much anything else. The series ends up being more about a love triangle than anything else. As the title would suggest there is a battle coming between magical faction, but not in this series.
I guess I should talk about the qualities of the series rather than the lack of substance. We are introduced to some rather typical high school students one of which has some unseen issues at home and would rather not be there. There is the slightly girlish magical girl who inadvertently supplies our hero with his magical power and two other normal students end up being drug into the fray of course the other female muggle/new wizard is the so called girlfriend of the dark teen with the family angst. As all of this might be a good start to the story things never really take off. We are served op plenty of sexual tension between our main characters but its not real clear as to what they want to do about it. You keep expect ion some genuine drama to happen but it all lends itself to way too much uneventful looks and tears.
The underlying story is left on the writers floor somewhere because just as it seems to begin to unfold we are sent back into the world of teenage confusion.
Overall Grade: C
I love stories that emulate Harry Potter (not really), because why not try to earn a few buck off someone else's idea? No, that is not completely try there are several similarities to the Potter plot line and the underlying focus on the wizard world taking over the muggles and making their world theirs to command. We also have the loner boy who feels like an orphan because of his relationship with his mother and brother that it takes on the dark dejected youth complex.
The animation looks good enough and some of the action is good, there just isn't enough of it to keep us interested. The character development is somewhat adequate but should have been much stronger with as much time as was spent on unimportant relationships. The humor was ok and managed to take some of the harsh bite of the rest of the failures somewhat lighter.
I honestly can't give this series any serious thumbs up. Other than the slick production values I have a hard time getting into the series. My only real question is why would Sentai spend the money on the english dub when it so obvious that the series will have a hard time finding s solid fan base. I think they should have spend the money on dubbing Captain Earth or even Space Brothers they could easily find a broader fan base that would make it profitable to do so. All I can say is good luck selling this one to the general anime community.