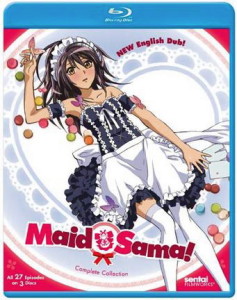 Title: Maid Sama!: The Complete Collection on Blu-ray
Director: Maid Sama!
Studio: J.C. Staff
Author: Hiro Fujiwara
U.S. Distributor: Sentai Filmworks, Section 23
U.S. Release Date: January 27, 2015
Format and Length: Blu-ray / 26 Episodes + 1 OVA / 665 Minutes
Genre: Comedy, Romance, School, Shoujo
Industry Age Rating: 14 and up
Overall Personal Rating: B+
Similar Series or Titles to Check Out: Special A and Ouran High School Host Club
No, he is not my boyfriend. He is just my creepy stalker.-Misaki Ayuzawa
I'll come to save you as much as you want. I'll make you fall for me as much as you wish.-Usui Takumi
Synopsis:
Misaki Ayuzawa has many problems in life. For starters, she is the first female student council president of the formerly all-male Seika High School and she is trying to get more girls to enroll for the next year. Then she works at a maid café in the next town, so no one from Seika High will run into her, so she can help her family out. But who does she run into but Usui Takumi, a classmate. This causes things to get very interesting, very fast! Toss in a handful of extremely annoying transfer students and the inevitable trip to the hot springs and everyone is going to end up in hot water one way or another. But Misaki is not going to let any of that stop her from maintaining order in the classroom and taking orders in the tea room. Will Usui Takumi spill the beans about Misaki Ayuzawa? Will Misaki be able to handle the stress of working and being student council president? You will have to watch Maid Sama! and find out.
Commentary:
Maid Sama!: The Complete Collection is far from the regular romance genre anime and that is exactly why I loved it so much. If you are the hopeless romantic type of person, you will love how this series defines your anime dream romance to a "T". Every episode gives you a chance to say "Awww" while also shaking your head at the main characters. But the ending is worth it. The comedy part of this series is also spot-on. Maid Sama! will have you laughing so hard that you cry in quite a few episodes.
The character development in Maid Sama! is interesting to say the least. Usui is the male main character and he has an adorable chibi form that appears whenever he is teasing Misaki. He is aloof and great at everything he tries. Misaki is your stereotypical tsundere character but eventually she shows more kindness over her aggressiveness. Plus she is adorable in her maid outfit. Usui and Misaki have wonderful chemistry together and the series does a good job showing it. There are many background and supporting characters in Maid Sama! but my favorites have to be the Three Morons. They make things interesting to say the least.
The art work was standard and nothing really stood out. However, the scenes did look good, but not great. The Japanese voice actors did a great job of bringing the characters to life. Personally, however, I did not care for the English dubbed version. The opening and closing animations were well done and the songs were catchy and enjoyable to listen to. I found myself humming the songs after a few episodes.
The OVA episode, or the last episode on the third disk, does not add anything to the series but it is really worth watching. It is a cute, fun episode albeit short. They could have made the OVA really special by extending the final scenes of the series. But at least Maid Sama! has an ending and a happy one at that.
Extras:
Maid Sama!: The Complete Collection includes clean opening and closing animations and Sentai Filmworks trailers as special features. This release also included the OVA for the series and has a new English dub track.
Overall Grade: B+
I really enjoyed Maid Sama! and would recommend it to anyone who enjoys rom-coms. The episodes seem to fly-by and leave you wanting to watch the next one.