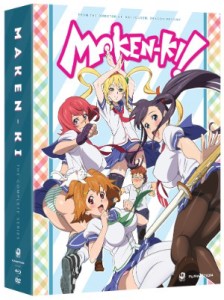 Title: Maken-ki! Battling Venus Complete Series Combo
Director: Koichi Ohata
Studio: AIC
U. S. Distributor: FUNimation
U. S. Release Date: Nov. 12th, 2013
Format: Blu-ray / DVD / 12 episodes + OVA
Genre: Echii, Romanic Comedy, Supernatural, Harem
Age Rating: TV MA
Overall Personal Rating: C
Synopsis:
Takeru enrolled in Tenbi Academy because the girl-to-guy ratio is, like, three girls for every guy. But this bevvy of bombshells is actually a school where teens beef up their combat skills using a magic power thingy called a Maken. Redheads with wicked high kicks, shocking blonde bullies, and aggressive brunettes are everywhere. And every time there's a brawl, their clothes tend to disintegrate.
Distracted by all the bouncy brawlers, Takeru has a hard time concentrating on his training. Things get sticky when the hornball can't figure out how to use his Maken. If he doesn't find his mojo quick, he'll be dumped by the school of his dreams – or destroyed by an attacker who's after his magic power thingy!
Commentary:
I am always amazed at how a series that has a rather entertaining plot can reduce its own worth by becoming nothing more than a vehicle for fan service. Maken-ki is just that series, I've seen it all too often with other before it like Ikki Tousen and Sekirei, but in the case of Maken-ki it does manage to let a little more plot shine through. I do have to tip my hat to the homage it pays to several other series and at the same time try to find some reasonably new ground for itself.
I understand who the audience is and also get the reason for the series itself, but I still think there could be a way to serve both and still have a strong series in the end. Maken-ki! is fun for what it is and it does a fine job of sticking to the standard harem format and provides plenty of interesting characters, but the in the end the fan service ends up ruling the day. Be prepared for plenty of breast in all their glory and a regular plethora of panty shots that begin in the opening scene.
Overall Grade: C
If you are looking for a series that is full of the hot young high school girls and a minimal plot line then this one is for you. It is a veritable parade of panty shots and bathing beauties that end up having a few fights along the way. If you enjoyed Sekirei or Ikki Tousen you will find Maken-ki right up your ally.