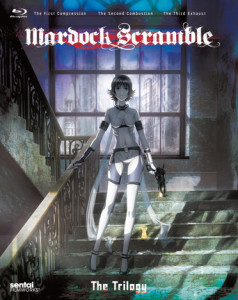 Title: Mardock Scramble The Trilogy on Blu-ray
Director: Susumu Kudo
Writer: Tow Ubukata
Studio: GoHands
U. S. Distributor: Sentai Filmworks, Section 23
U. S. Release Date: June 9th, 2015
Format: Blu-ray / 3 Feature Films / 199 minutes
Genre: Cyberpunk, Sci Fi, Drama, Action, Adventure
Age Rating: MA
Overall Personal Rating: A
Synopsis:
Murdered by a sadistic slayer of women, Rune Balot finds herself reborn for one purpose: to bring her killer to justice. But even knowing the identity of her murderer, proving he's the one responsible for her death won't be easy, especially when the murderer himself has forgotten his crimes.
With the help of Doctor Easter, the man who restored her to life, and Oeufcoque, an intelligent, self-aware universal item capable of assuming the form and function of anything from a gun to a mouse to a lady's glove, Rune will have to find the proof to convict a vicious killer without dying a second time. In a world of black-market body parts, high-stakes gambling, and lurid violence, justice will be written in blood!
As Rune Balot's struggles to bring the man who killed her to justice amid the dark world that they live in. The odds are stacked heavily in the house's favor, and even with the aid of Dr. Easter and Oeufcoque, a universal item capable of turning into anything and everything, Rune's chances of winning are slim. But winning the golden chips containing Shell Septinos' memories is only the next step on a long and treacherous road.
Run will still have to live long enough to bring those memories before the court, and even that isn't the end of the journey. Rune's search for answers to the questions that haunt comes to a shattering climax!
Commentary:
Finally we have the chance to see this engaging anime in one package that brings to life Tow Ubukata's dark Sci Fi thriller Mardock Scramble. Coming to the anime after reading the 750 page novel several years ago brings plenty of expectations and desires, but in the end this anime managed to take on a life of its own without letting me down. This having it all in one place helps bring Rune Balot's personality to full fruition and completed the connection between her and the AI weapon that is her partner, Oeufcoque.
As this story developed it brought together a look at humanity in both its darkest and lightest at the same time. There is also a very eastern approach to the dark side that allowed it to have a small but intense sense of honor and love. That does not say that most of the antagonist have something honorable, but there are one or two that bring some added baggage along with their external personas. The yin and yang within the characters adds so much death to the story it makes it all worth while.
Overall Grade: A
This Trilogy of the Mardock Scramble films does exactly what it needs to do. There is very little waist to the story and also develops a rather deep and enlightening interaction for Rune that results in a very special aspect of the human condition. Mardock Scramble is something special in the way it is constructed and executed. Tow Ubukata gives a look at our species in a raw and brutal way that goes straight to the core of our existence. I'm not sure that I can do justice to the fine story in this rather weak review, but if you have any interest in the underbelly of humanity and are looking for an honest approach to this genre. Then you will find that Mardock Scramble provides a hero, or should I say heroin who struggles with her own demons and hatred just to become stronger in order to defeat not just the person but ideals of that dark world. Then you should pick up this Trilogy of the movies and enjoy them at your own pace. My only complaint is that it took so long to produce and distribute them. It does make me happy to see them all together in one package at a price point that won't break the bank.
If you are looking for a real treat, be sure to read the novel and then watch the films. I think you will find the translation worth while and really enjoy seeing for once a genuine translation that gives us two visions of the same story and succeed with both. I should also mention that both the theatrical and director's cuts of all three films are provided in this new Trilogy release.
This is not for everyone and it doesn't hold back when showing off the darker side of our species, but if you are looking for a insightful Cyberpunk story that says more than most in a way that leaves you thinking rather seriously about the world we live in and where we are headed, then Mardock Scramble is for you.